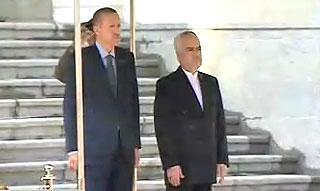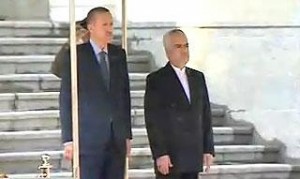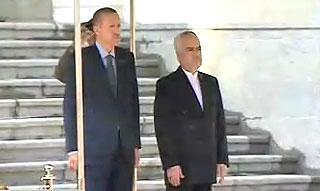 Turkish Prime Minister Recep Tayyip Erdogan has been officially welcomed by Iran's Vice President Mohammad-Reza Rahimi.
During the official ceremony on Tuesday, the national anthems of the countries were played and then the two officials reviewed a guard of honor.
Heading a high-ranking politico-economic delegation, Erdogan arrived in the Iranian capital Tehran on Monday night and was welcomed by Iranian Foreign Minister Manouchehr Mottaki at Tehran's Mehrabad international airport.
Erdogan who arrived in Iran after a visit to Pakistan will meet with Iranian high-ranking officials including President Ahmadinejad to exchange views on different regional and international issues.
His visit to Iran comes just a few hours after he accused the West of treating Iran unfairly over its nuclear work.
Erdogan told The Guardian that Europe and the US have been treating Tehran unfairly over its enrichment program because "although Iran doesn't have a weapon, those who say Iran shouldn't have them are those countries which do [have nuclear weapons]."
"Iran does not accept it is building a weapon. They are working on nuclear power for the purposes of energy only," he added.
He said that it was 'unfair and unjust' to pressure Iran over its nuclear program when other countries have nuclear weapons.
The visit aims to boost ties between the two countries in different arenas including commercial and economic.
Erdogan will head to the United States after his two-day visit to Iran.