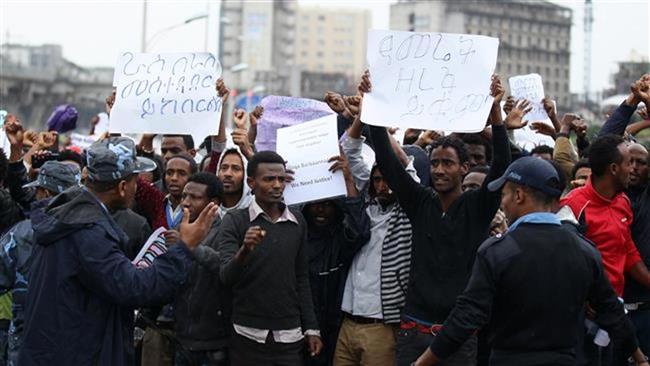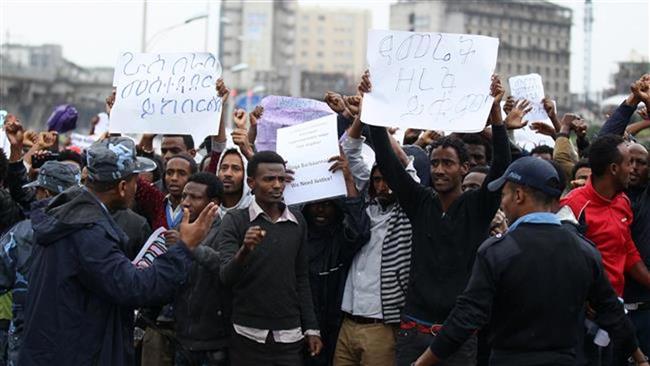 Police in Ethiopia have fired teargas and warning shots to scatter people participating in a religious festival in a town south of the country's capital, Addis Ababa.
The incident occurred on Sunday as thousands of people had gathered in the town of Bishoftu in the Oromia region to attend the annual thanksgiving festival known as Irreecha.
According to witnesses, the participants also chanted anti-government slogans, and when police intervened, the crowd panicked and fled, creating a stampede, with many of the protesters falling into a deep ditch nearby amid the chaos.
'50 dead'
Witnesses said they saw several people dying in the stampede.
Meanwhile, latest reports say an Ethiopian opposition group has claimed that at least 50 people were killed in the stampede. No official account has yet been provided.
The region has been the scene of sporadic protests over the past years.
The demonstrations were sparked by a government plan to expand the municipal boundaries of the capital city into Oromia, a move that could result in farmers from the Oromo ethnic group being displaced and losing their land and property.
The Ethiopian government was forced to withhold the expansion project in January but sporadic protests have continued in the region.
A report by Human Rights Watch in June indicated that security forces repeatedly used lethal force, including by firing live ammunition, to break up many of the 500 reported protests that have occurred since November last year.
Oromia, with at least 27 million people, is the largest ethnic group and the most populous of the East African country's federal states, surrounding the capital, Addis Ababa, on all sides.
Tensions have been compounded by the country's worst drought in 50 years, which was caused by subnormal rainfalls.