Europe
EU entry for Scotland 'common sense'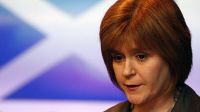 Scotland's EU membership after a "Yes" vote for independence is a "common sense" position, Scottish deputy First Minister Nicola Sturgeon says.
The Scottish National Party (SNP) politician told the BBC's Andrew Marr show on Sunday that no European government had "even come close" to saying that they would veto Scotland's membership in case of a yes vote.
"It wouldn't be in the interests of any other member state, or indeed the interest of the European Union as a whole, for Scotland to be outside of the European Union," she added.
Scotland's Labour MEP David Martin is also reported to have said Scotland would get the EU membership "after several rounds of negotiation."
"Scotland, of course, would get into the EU eventually. It's not automatic, and would take several rounds of negotiations," the Sunday Herald quoted Martin as saying.
Opponents of Scottish independence have repeatedly said Scotland would need to reapply for the EU membership if the country votes for independence in the upcoming referendum.
Earlier last month, Scotland's First Minister Alex Salmond dismissed as "absurd" the notion that Scotland would need to reapply to join the bloc.