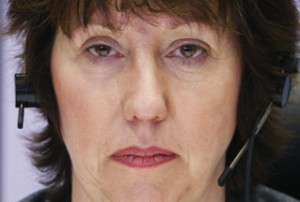 The European Union's foreign policy chief, Catherine Ashton, said Saturday she was planning to stop in Gaza during an upcoming Middle East trip later on this month.
It would be the first high-level visit in over a year of an EU representative in the area, which is under Zionist blockade and is ruled by Hamas.
"I have asked to go to Gaza, yes," Ashton said at the start of the second and last days of talks with EU foreign ministers in Cordoba, Spain.
She added that she does not have a precise date yet, but pointed out that her Middle East trip "starts a week on Sunday."
Ashton's predecessor Javier Solana last visited Gaza in February 2009, in the aftermath of the Zionist invasion that caused significant destruction in the area.
The Zionist occupation launched a large-scale War in late December 2008 with the claim to stop rocket launches from Gaza, which it blames on Hamas.