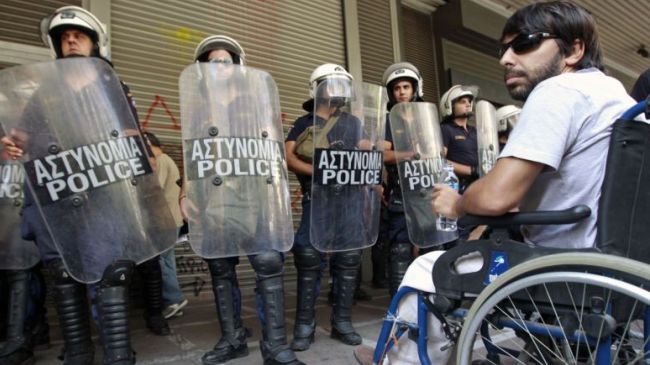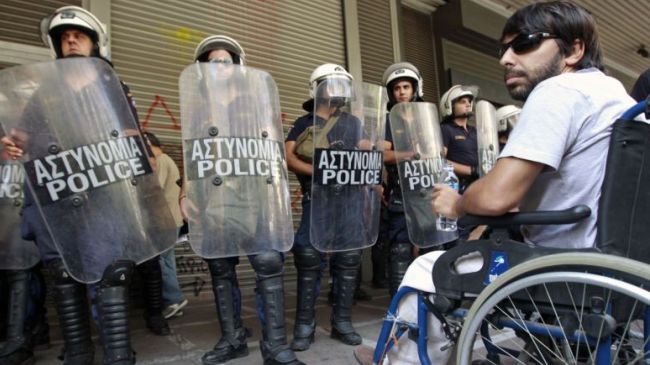 Tens of thousands of Greeks hit by austerity cuts have taken to the streets in Athens as the government pushes for an austerity deal with its lenders.
On Tuesday, inspectors from the International Monetary Fund, European Central Bank, and European Commission, known as the troika, tried to avoid the protesters demonstrating outside the labor ministry building in the capital, where negotiations between the troika and Athens were being held on the details of a two-year austerity package.
For weeks, Greece has been negotiating over 12 billion euros of cutbacks that its lenders have declined to sign off over concerns that many of the proposed saving cuts are unlikely to materialize.
For the second day, the troika inspectors had to face the angry protesters interrupting them as they entered the ministry building to start negotiations.
Dozens of disabled demonstrators blocked the main entrance of the labor ministry and chanted, "We won't let it pass!" One held a banner saying, "They handed 200 billion to bankers but cut down on medicine, treatment, and benefits for the disabled."
On Monday, Athens unveiled its 2013 draft budget which includes measure that would affect pensions, benefits, and the salaries of civil servants to meet the troika criteria. The austerity budget foresaw a sixth year of recession in 2013. However, the measures did not convince the troika.
"The troika is questioning the effectiveness of the measures related to structural reforms," a government official said.
Greece has been at the epicenter of the eurozone debt crisis and is experiencing its fifth year of recession, while harsh austerity measures have left about half a million people without jobs.
One in every five Greek workers is currently unemployed, banks are in a shaky position, and pensions and salaries have been slashed by up to 40 percent.
Greek youths have also been badly affected, and more than half of them are unemployed.
The long-drawn-out eurozone debt crisis, which began in Greece in late 2009 and reached Italy, Spain, and France last year, is viewed as a threat not only to Europe but also to many of the world's other more developed economies.