Iran
Middle East
North America
Ex-IRGC Commander Warns US Navy to Keep Distance from Iranian Boats in Persian Gulf
Former commander of the Islamic Revolution Guards Corps (IRGC) Mohsen Rezayee cautioned President Donald Trump that his decision on the IRGC has elevated the risks for the United States and its navy in the Persian Gulf.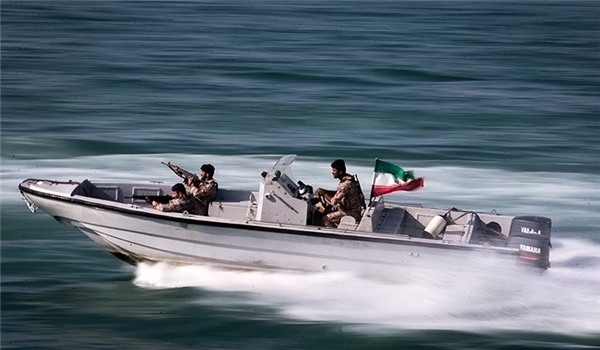 On Monday, Trump announced that the US will formally designate the IRGC as a Foreign Terrorist Organization, a move some in the administration had opposed over concerns about potential risks to American troops in the Middle East.
"Mr Trump! Tell your aircraft carriers to avoid sailing near the IRGC boats," Rezayee who is the secretary of Iran's Expediency Council warned in a Tweet on Tuesday.
In recent years, several IRGC commanders have stressed that the US warships deployed in the Persian Gulf are deeply afraid of the destruction power of Iran's speed boats.
"The US which has entered the Persian Gulf with all its military power obeys the rule of the Iranian speed boats," Commander of the IRGC Navy Rear Admiral Ali Fadavi said in late 2015.
"Despite its military power, the US fears the Iranian speed boats since it knows that these small-size boats that are only a few meters in length enjoy such a destructive power that they can destroy their several-hundred-meter long warships," he added.
In January 2016, IRGC naval forces arrested 10 US sailors after their patrol boats entered the country's territorial waters in the Persian Gulf. The marines were released after Americans apologized for the incident.
IRGC Commander: US Not Aware of Iran's High Naval Powerhttps://t.co/4QP83h6ghjpic.twitter.com/3cVkI7MFZy— Fars News Agency (@EnglishFars) April 22, 2018
Shortly after the Washington's decision on Monday, Iran's Supreme National Security Council (SNSC) labeled the United States Central Command (CENTCOM) in the Middle-East as a terrorist entity.
The SNSC declared the United States a "terrorist government", and blacklisted the "CENTCOM and all its affiliates a terrorist group" to reciprocate Washington's controversial decision to designate the IRGC as a terrorist organization.
Iran Designates US Mideast CentCom As Terrorist Entity in Tit-for-Tat Measure Against IRGC Blacklisting by Washingtonhttps://t.co/n9D67LZzc3 pic.twitter.com/A9AvFsKPuN— Fars News Agency (@EnglishFars) April 8, 2019
On Tuesday, Iranian President Hassan Rouhani strongly deplored the US move, saying that his country is in possession of powerful missiles beyond enemies' imagination.
"The IRGC has uprooted terrorism in Iran," he said, adding that it was one of the first forces to help the regional countries in their campaign against terrorism.
"You know that we have developed missiles since last year until this year that are beyond your imagination," Rouhani stressed, addressing the enemies.
The US has made a big mistake by putting IRGC on its terror list and has sacrificed the interests of American people and others across the world for the interests of a host of Zionists, he noted.