Palestine
Family: Al-Qeiq will not stop hunger strike, till his unconditional release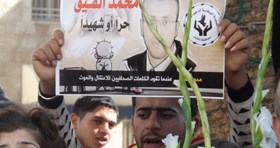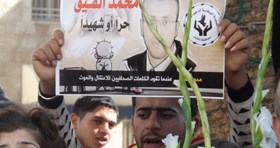 The imprisoned journalist  Mohamed Al-Qeiq's family said Saturday morning that he decided to continue his hunger strike for the 74th day despite his critical health condition. The family denied all reports claiming he reached a deal with Israeli authorities to end his hunger strike. He is still held under administrative detention, the family stressed.
Al-Qeiq had earlier told al-Majd TV Channel in a phone interview that he would continue his hunger strike until he restores his freedom. Al-Qeiq expressed during the phone call his gratitude to the campaign initiated in solidarity with him. He said the Israeli court rule to freeze his administrative detention while keeping him locked up in Israeli hospitals aim at thwarting the solidarity campaign.
A number of Arab members of the Israeli Knesset had Thursday managed to visit al-Qeiq in Afula Hospital after Israeli court order to freeze his administrative detention. Al-Qeiq was arrested from his family home in Ramallah on November 21 and had reportedly been subjected to harsh torture during the investigation procedure, which made him declare his hunger strike.