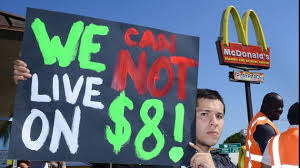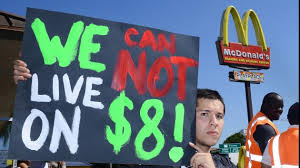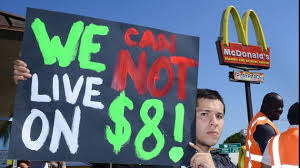 Fast food workers in the United States and dozens of other countries are planning to go on a strike next week for higher pay and worker rights.
Fast Food Forward, which represents US fast-food workers, announced the news on Wednesday at a press conference outside a McDonald's restaurant in Midtown Manhattan, USA reported.
In the US, workers have planned to hold rallies in 1,500 cities on May 15 – a date which mirrors the $15 per hour pay they are demanding. Workers in 33 other countries on six continents also will hold protests at McDonald's, Burger King and KFC outlets.
As many as 4 million fast-food workers are expected to take part in the one-day strike, the report said.
"We've gone global," said Ashley Cathey, a McDonald's worker from Memphis, Tenn., who makes $7.75 an hour after six years on the job. "Our fight has inspired workers around the world to come together."
Some of the foreign protesters say they are taking action specifically in sympathy with US workers, according to the newspaper. Louise Marie Rantzau, a McDonald's worker in Denmark who makes $21 an hour, says she was surprised to hear US workers have to fight so hard to make $15 an hour, the report said.
President Barack Obama has called on Congress to raise the national minimum wage from $7.25 to $10.10 per hour, but his proposal has faced Republican opposition. Earlier this year, the president signed an executive order to raise the minimum wage to $10.10 for individuals working on new federal service contracts.
Workers of other sectors are also unhappy with low wages. The protests calling for higher wages initially began in November 2012 in New York City and have been continuing since.
In the latest string of US labor protest, hundreds of workers staged a strike at Los Angeles International Airport on Wednesday, complaining that their wages are being cut by 40 percent and their healthcare benefits are being reduced.
Most of the jobs created in America during the economic recovery have been low-wage or part-time jobs, according to the Bureau of Labor Statistics.