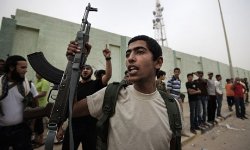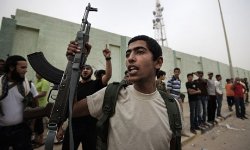 Clashes between Gaddafi forces and Libya's revolutionary forces in the oil-rich Libyan town of Brega took to the streets on Sunday.
Mohammed Zawi, a spokesman for the revolutionary forces said on Sunday that some small groups have made it inside, but they do not control the whole (town) yet.
The re-entry of the revolutionary forces in Brega have put them within sight of a major strategic success, but they had not yet managed to wrest control of the town from the pro-government troops, who have held it since April.
Zawi also dismissed rumors that Gaddafi troops had abandoned the town altogether. "It is now close fighting," he said.
With some 13 revolutionary forces now reported killed and almost 200 wounded since the battle for Brega began on Thursday, NATO in a statement said its troops were monitoring 'the dynamic situation across the country, including around Brega.'
Brega, made up of three areas, a residential area in the east, a major oil facility in the west and an old town in between, is nestled on the Gulf of Sirte.
On Friday, a small revolutionary force had entered Brega from the northeast, before pulling back for NATO air strikes and for fellow fighters to the south to beat back the pro-government troops.
A series of military gains were washed away by hasty and badly coordinated advances, but now revolutionary commanders say they are anxious to make sure they have a unified offensive line before their final push.
The NATO-led alliance, which has been spearheading UN-mandated military operations since March 31, is trying to oust Gaddafi, but its air strikes have not proved decisive.
The conflict has claimed thousands of lives and caused hundreds of thousands to flee the country, according to United Nations agencies.