Iran
Middle East
North America
First VP: Iranian Nation Feels More Hatred for US after Assassination of General Soleimani
Iranian First Vice-President Eshaq Jahangiri said that the Iranian nation feels more hatred for Washington after assassination of IRGC Qods Force Commander Lieutenant General Qassem Soleimani.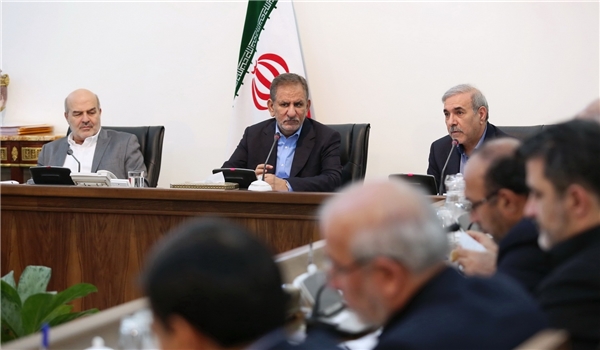 "Certainly, the Iranian nation's hatred for the US measures has increased compared with the past," Jahangiri said in a meeting with Syrian Prime Minister Imad al-Khamis in Tehran on Monday.
He voiced hope that other regional states would follow the Iraqi parliament by approving a bill to expel the US forces.
The high-ranking Iranian official underscored Iran's continued support for Syria's territorial integrity and sovereignty and its willingness to further expand the political and economic ties with Damascus, expressing the hope that the crisis in Idlib would be resolved in a desirable manner and the Syrian government would come in control of all territories of the country.
Khamis, for his part, extended his condolences to the Iranian people and government over the martyrdom of General Soleimani, and said the US is always plotting to impose war on the regional states.
"Syria underlines the Islamic Republic of Iran's right to defend itself and confront enemies' aggression and attacks and we declare our solidarity with our brothers in the Islamic Republic of Iran," he added.
Khamis also emphasized the need for the further broadening of ties with Iran.
General Soleimani was martyred in a targeted assassination attack by the US drones at Baghdad International Airport early on January 3.
The airstrike also martyred Abu Mahdi al-Muhandis, deputy commander of Iraq's Popular Mobilization Forces (PMF), or Hashad al-Shaabi. The two were martyred in an American airstrike that targeted their vehicle on the road to the airport.
Five Iranian and five Iraqi militaries were martyred by missiles fired by the US drone at Baghdad International Airport.
The attack came amid tensions that started by the US attack on PMF units that killed 28 Iraqi popular forces. A day later, Iraqi people attacked the US embassy in Baghdad.
The targeted assassination attack represents a dramatic escalation by the US toward Iran after months of tensions. The tensions take root in Trump's decision in May 2018 to withdraw the US from Iran's nuclear deal with world powers, struck under his predecessor.
Last Wednesday, the IRGC Aerospace Force launched heavy ballistic missile attacks on US Ein Al-Assad airbase in Southwestern Iraq near the border with Syria and a US operated airbase in Erbil in retaliation for the assassination of General Soleimani.