Europe
France threatens Iran with 'tougher sanctions'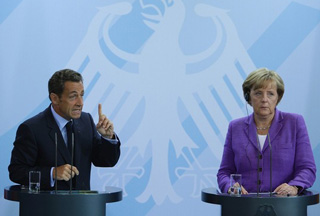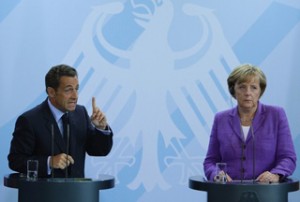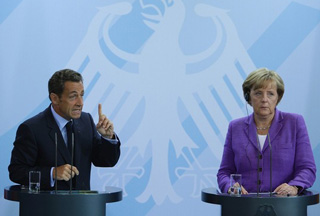 France says "tougher sanctions" await Tehran, should the Islamic Republic fail to resume talks with the international community over its nuclear drive.
"If Iran wants to cooperate, we would agree to that, but if Iran doesn't want to cooperate, then Germany and France will together discuss tighter sanctions," said the French President Nicolas Sarkozy in a joint press conference with the German Chancellor Angela Merkel.
The comment comes ahead of a Wednesday meeting of the five permanent members of the UN Security Council — Britain, China, France, Russia and the United States — plus Germany (P5+1) in Frankfurt on Iran's nuclear program.
The P5+1 wants Iran to halt its uranium enrichment program. Tehran, however, has repeatedly said that it will not relinquish its nuclear rights under Western pressure.
Western leaders, including the US President Barack Obama, had earlier declared that they would give Iran until September to resume its nuclear talks.
Sarkozy also supported President Obama's outstretched hand to the Iranian leaders.
"We have supported president Obama in reaching out his hand, but we cannot reach out our hands forever to leaders who are not responding and that's why initiatives must be taken in September to show that Iran is willing or not willing to cooperate," the French president added.
The German chancellor also commented on the issue, saying "It is important that a clear statement comes from Iran on whether they are interested in talks, on whether they accept the offers of the international community."
"Iran has to know that we are very serious about the deadline but that we take the agreement we took in L'aquila during the G8 about the deadline in September very seriously," Merkel said.
The West, spearheaded by the US and Israel, accuse Iran of pursuing a nuclear weapons program. However, they have consistently failed to provide any evidence for their accusations.
In its latest report on Iran released on Friday, the UN nuclear watchdog (IAEA) confirmed that the country was improving its cooperation with the agency while it continued enriching uranium in spite of the UN Security Council resolutions.
The report, meanwhile, added that the agency had been able to continue "to verify the non-diversion of declared nuclear material in Iran."
"Iran has cooperated with the agency in improving safeguards measures at FEP [Fuel Enrichment Plant] at Natanz," the report said.