Syria
"Free Army" bombards Sulaymaniyah of Aleppo, Fahhamah of Damascus and executes 30 citizens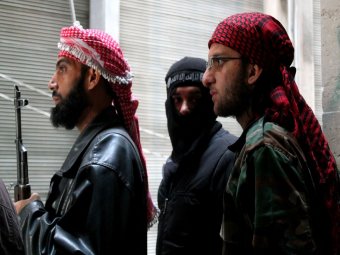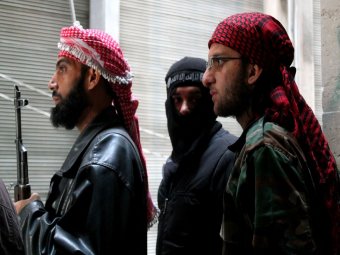 The "Free Army" militia carried out a series of biggest breaches in one day on Monday morning, April 29 by bombarding areas, bombings and field executions against civilians.
Elements of the militia executed Monday morning about a 30 kidnapped civilians from Nubbol and al-Zahraa regions of Aleppo, which are blockaded by the militias since weeks ago.
Breaking News Network reporter pointed out that the gunmen kidnapped civilians who were executed about a month ago while they decided to execute them this morning.
"Free Army" missile-bomb al-Sulaymaniyah
Militias targeted the safe area of Sulaymaniyah in Aleppo in the morning with about 9 mortar shells killed numerous of civilians.
Our correspondent pointed out that the 3 shells landed on the main street in the neighborhood of Sulaimaniya, near the Syria Gas Station, with about 4 shells targeted the Syriac Orthodox Church – the Church of the kidnapped Bishop Yohanna Ibrahim – which led to the fall of a number of martyrs and injuries without identifying the toll accurately.
Also al-Fahhamah
The militia of "Free Army" continued its crimes by targeting al-Fahhamah area in Damascus with mortar shells.
Breaking New Network envoy in Damascus pointed that 3 mortars have landed on al-Fahhamah area with no human casualties recorded, and the damage limited to material.
The clashes of Brigade 17 kill the largest number of insurgents in Raqqa
Fierce clashes took place between the militants and elements of the Syrian Arab Army in the vicinity of the Brigade17 which led to the death and injury of dozens of militants and heavy losses in their ranks.
Our reporter noted that a military convoy advanced from Tabqa city towards Raqqa city to support the brigade 17 and striking checkpoints planted by gunmen on the road of Raqqa – Tabqa, as the army dismantled a number of IEDs.
A military source pointed in a remark to Breaking News correspondent that the largest number of militants has fell today since the start of battles in Raqqa.
The Syrian Arab Army has proceed its operations against the gunmen's headquarters in Hasaka, as insurgents targeted a bus of Internal Security Forces (ISF) with a remote-controlled roadside bomb on the Sports City road, injuring 5 members and a civilian citizen.
Our reporter pointed out that the gunmen attacked the prison of Allaya in the city of Qamishli what caused the flight of 57 prisoners after the complicity of elements of protection of the prison as some of them returned and surrendered himself and the rest fled.
Our envoy in Deir Ezzor pointed out that the army struck insurgent groups in al-Sina'a neighborhood, which led to the killing and wounding a number of them, including Abdel Moneim Mohammed Nasser, Mohammed Hussein Nasser Abdullah Al-Agha that called "Thunderbolt battalion".
Finally units of the army targeted the headquarters of gunmen in al-Rushdiah neighborhood and Mohassan town, killing and wounding a number of militants.