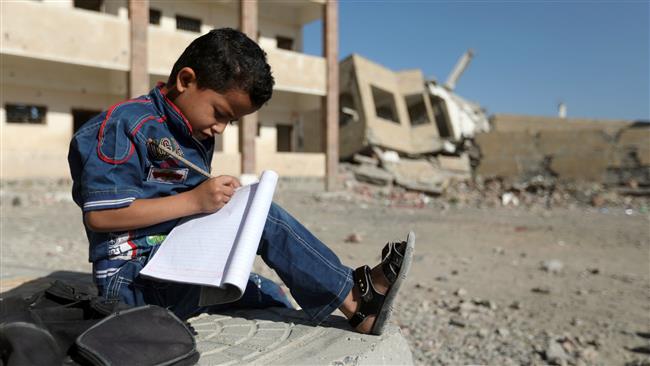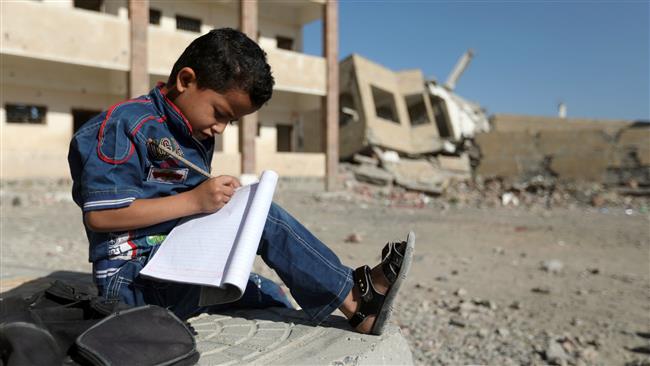 The United Nations International Children's Emergency Fund (UNICEF) has warned that the future of up to 4.5 million schoolchildren in the war-torn Yemen is uncertain as thousands of teachers refuse to attend classes for not receiving their salaries during the past year.
"The future of 4.5 million students hangs in the balance," Rajat Madhok, the spokesman of the UN the UNICEF warned, as classrooms in the capital Sana'a and Yemen's northern regions remained largely closed to students on Sunday, the belated first day of school in the country.
Schools in Yemen were supposed to open on September 30 as the start of the scholastic year but were forced to postpone the opening day for two weeks amid a persisting deadly war imposed by Saudi Arabia and the ensuing hunger, a cholera epidemic and an economic collapse.
The economic crisis largely began last year, when the former president, Abd Rabbuh Mansur Hadi, a staunch ally of Riyadh, who has occupied Yemen's southern areas, including the southwestern port city of Aden, with the help of Saudis and his militia, moved the country's central bank from Sana'a to Aden.
He claimed that the popular Houthi Ansarullah movement, which is in control of large areas of Yemen, including the capital, looted the bank; an allegation that was categorically rejected by the Houthis.
Hadi's controversial move left the Houthis, who have been running state affairs and defending the nation against the Saudi war machine, unable to pay monthly salaries of more than three-quarters of Yemeni teachers, some 73 percent, since last October, prompting them to turn to other occupations to feed their families.
The UN has already said that Hadi's move in relocating the central bank to Aden had deprived more than one million civil servants of their salaries and pushed families toward starvation.
The UN Children's Fund warns that Yemen's economic crisis is threatening the education of 4.5 million students in the war-torn country.
Back in April, UNICEF Representative in Yemen Mertixell Relano warned that the ongoing war might prevent a whole generation of children from education this year.
"At the moment, we have more than 166,000 teachers in the country that have not received a salary since October last year," she said at the time, adding that the out-of-school boys might then be easily recruited by militia groups and "the girls might be at risk of being married earlier."
Since March 2015, Yemen has been heavily bombarded by Saudi warplanes as part of a brutal campaign against the impoverished country in an attempt to reinstall Hadi and crush the Houthis. The regime in Riyadh has failed to achieve its objective.
Latest tallies show that the imposed war has so far killed over 12,000 Yemenis and wounded thousands more. The Saudi aggression has also taken a heavy toll on the country's facilities and infrastructure, destroying many hospitals, schools, and factories.