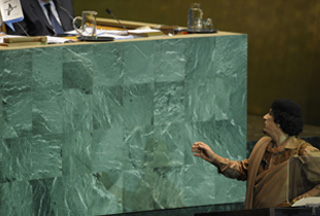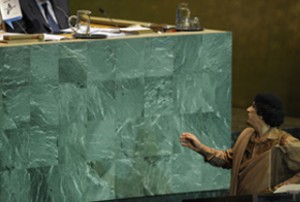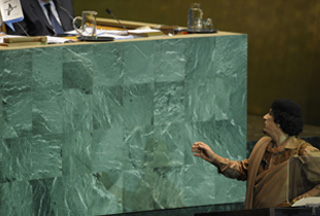 Libyan leader Moammar Gadhafi has described the United Nations Security Council (UNSC) as the "terror council," urging its reformation.
"It should not be called the Security Council, it should be called the "terror council," he said attending the UN General Assembly gathering in New York on Wednesday.
Gadhafi envisioned an overhauled UNSC where the permanent membership, United States, Britain, France, China and Russia, did not enjoy a veto power over the decisions made by the rest of the body.
The reformed council could alternatively absorb more members, he added.
The speech was preceded by that of US President Barack Obama who together with Secretary of State Hillary Clinton and the country's UN Ambassador Susan Rice represented Washington at the meeting.
At one point during the impassioned speech, Gadhafi threw a copy of the UN Charter he was holding throughout his performance, at the Assembly President Ali Treki who was sitting at the raised tier behind him.
US ambassador to the UN Susan Rice, who left before Gadhafi's address, had, earlier in the month, warned him over his conduct at the convention.
She had cautioned that how Gadhafi "chooses to comport himself" could "further aggravate" the Americans angered by the recent release of the Libyan convict of the 1988 Lockerbie bombing over Scotland which claimed 189 US nationals.
The Libyan leader also targeted the world body's inability to prevent violence since its establishment in 1945.
"…65 aggressive wars took place without any collective action by the United Nations to prevent them."
He, however, hailed Obama's presentation during which, the US president had called for an international sense of responsibility in the face of global challenges.
"Those who used to chastise America for acting alone in the world cannot now stand by and wait for America to solve the world's problems alone," Obama had said.