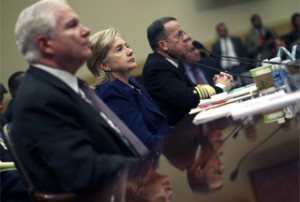 US Defense Secretary Robert Gates has landed in Baghdad on a surprise visit to meet with Iraqi premier Nouri al-Maliki and to consult with American military commanders as they prepare for American forces pullout in spring.
Gates' visit to Iraq comes as Baghdad was still reeling from multiple coordinated bombings.
The latest such incident killed 127 people and wounded more than 500 others in a series of coordinated bomb blasts that struck the Iraqi capital on Tuesday.
Pentagon officials traveling with Gates and American military officials in Baghdad say that neither the bombings nor the delay of Iraqi national elections until March would alter the plans for withdrawal of more than 50,000 American troops from Iraq next year.
The 115,000 US troops currently in Iraq are set to be reduced to 50,000 by the end of August, and will completely withdraw from the country by the end of 2011, as part of a US-Iraqi agreement signed last year.
The US military has raised alarms that militants would probably continue high-profile attacks in an attempt to destabilize the Iraqi government in advance of March 7 parliamentary elections.
Gates flew to Baghdad from Kabul, Afghanistan, where he met earlier on Thursday with top Afghan military leaders. He told them that even though the United States planned to begin withdrawal of American troops from Afghanistan by July 2011, "we will have a large number of forces here for some period beyond that."