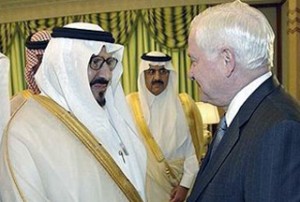 The US claims Saudi Arabia and the UAE are open to lobbying China and Russia to support a new round of sanctions on Iran.
US Defense Secretary Robert Gates toured in Riyadh and Abu Dhabi over the past two days to tighten pressure on Tehran over its nuclear program.
"I have a sense that there is a willingness to do that," Gates told reporters in Abu Dhabi.
"Although there is less need with respect to Russia, because I think Russia is pretty much already there. It's mainly China."
China and Russia, which are reluctant to impose sanctions on Iran, have repeatedly called for a diplomatic solution to the dispute over Tehran's nuclear program.
The United States, Israel, and their allies have accused Iran of pursuing military objectives in its nuclear program, a claim rejected by Tehran.
As a signatory to the Nuclear Non-Proliferation Treaty (NPT) and a member of the International Atomic Energy Agency (IAEA), Iran has the right to develop and acquire nuclear technology meant for peaceful purposes.
The IAEA has conducted numerous inspections of Iran's nuclear facilities but has never found any evidence showing that Iran's civilian nuclear program has been diverted toward the production of nuclear weapons.
Israel possesses a nuclear arsenal of at least 250 warheads, has never signed the NPT, and has never allowed IAEA inspections of its nuclear facilities.