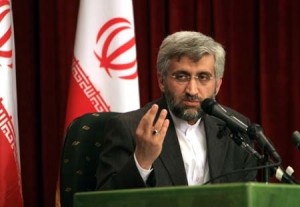 Switzerland's Federal Department of Foreign Affairs has declared that Geneva will host talks between major world powers and Iran on the Islamic Republic's nuclear program.
"Switzerland has always advocated a diplomatic solution to the Iranian nuclear question. It welcomes and supports the continuation of direct talks," the foreign department in Bern said.
The five permanent members of the UN Security Council, the US, Britain, France, Russia and China plus Germany (P5+1) will hold talks with Iran to discuss Tehran's nuclear program.
Saeed Jalili, Iran's chief nuclear negotiator, will head Tehran's delegation and Javier Solana, the EU's foreign policy chief, will lead the P5+1 delegation at the talks on October 1, the Swiss statement said on Thursday.
The last such multilateral talks took place in July 2008, also in Geneva.
Earlier this week, Solana had implied that the western Swiss city would play host to the talks, apparently replacing Turkey, which he had previously suggested would be the venue.