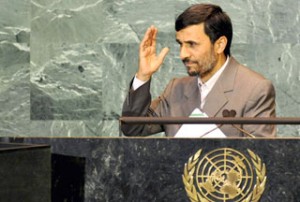 German officials have threatened to leave the UN General Assembly hall if the Iranian president's speech includes what they call a denial of the Holocaust.
"We will leave the hall if President [Mahmoud] Ahmadinejad denies the Holocaust or makes anti-Semitic statements … we are making efforts towards a unified European position," a German foreign ministry spokesman said on Tuesday.
The German threat came as Ahmadinejad once again outlined his position on the issue ahead of his scheduled Wednesday speech at the United Nations.
Ahmadinejad said that he accepts European confessions that they committed horrific crimes during World War II, but posed a question he has repeatedly asked: who should be held responsible?
"Where did the Holocaust take place? Who has created the Holocaust? … Why should the Palestinian people pay for it?" the president said in a televised interview with France 2.
"Should the Palestinian people who played no role in the occurrence of the Holocaust pay for it?" he asked, urging an investigation into the matter.
Amid Germany's warnings, experts point out that Ahmadinejad's comments in support of the Palestinian people cannot be described as anti-Semitic as Palestinians are Semites too.