Palestine
Ghussain: No such thing as mass-exodus phenomenon, follow-up needed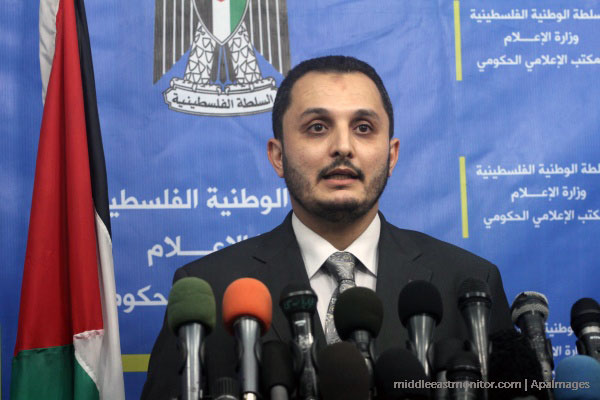 Information Ministry undersecretary, Ihab al-Ghasin, on Saturday dubbed mounting talks on the entrenchment of an "illegal immigration" phenomenon an overstated fuss, calling instead for the launch of regular follow-ups to keep tabs on the affair.
Ghussain said in a press conference held in Gaza on Saturday: "We found out after meticulous scrutiny of the names of "illegal" migrants who arrived in foreign territories that most of the refugees left the Gaza Strip via legal means, using the Rafah crossing."
"A large number of migrants have been residing outside of the Strip for several years, particularly in Egypt," he added.
In Ghussain's terms, a small number of citizens who left the Gaza Strip through illegal ways did so via tunnels dug up over the past few months, before authorities detected the tunnels and indicted the persons responsible for the affair.
The incident has taken more than its fair share of dramatization, Ghussain said, adding: "This is cheer nonsense. We are talking about a nation that has never left its native soil even during the most atrocious of all wars, compared to the millions who departed their mother lands. The bulk of our diaspora have come back home during the offensive to corroborate their devotion to their land even in the hardest circumstances ever."
Ghussain held the Israeli occupation and the blockade responsible for Gaza's economic breakdown and unprecedented upsurge in unemployment rates.
He further slammed the international community for its silence vis-à-vis the siege and its reluctance to impeach Israel's war criminals.
He called for opening the Rafah crossing as an efficient way-out to smooth the access of passengers and goods out of and into Gaza and enhance the Strip's work mechanisms.
Ghussain urged the Arab countries to meet Palestinian refugees' rights to live in safety and open up new prospects before Palestinian graduates as the only way-out of illegal immigration to the West.
The Palestinian official denounced bidding and political exploitation of the cause, calling rather for pulling resources to work out the affair and mitigate Palestinians' agony.
All of Gaza's employees have been ready since the first days of the formation of the unity government to carry out their allotted missions and cooperate with it in the very best way possible, Ghussain emphasized.
He hailed Palestinians' determination to overthrow the Israeli colonizer and cling to every single inch of their lands until their last breath.