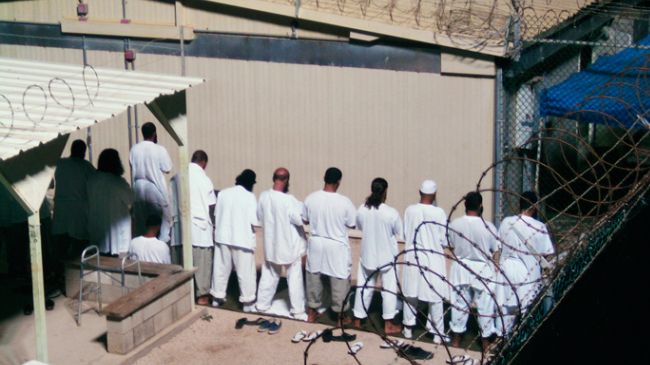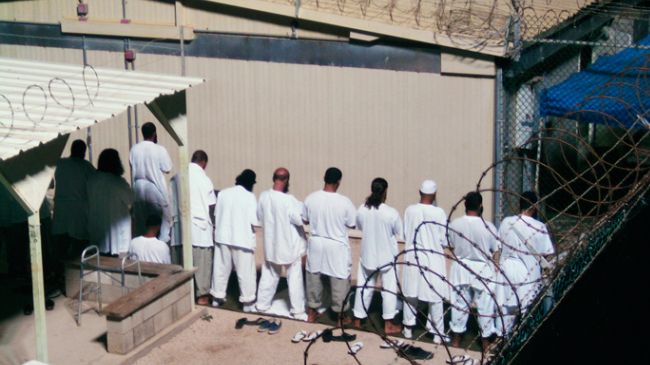 As the hunger strike protest by captives at the notorious American military camp in Guantanamo reaches its 100th day, there are growing calls inside of the US and across the world to shut down the facility.
Nearly 130 of the 166 inmates in the military detention and torture center remain on hunger strike, which began in February to protest persisting mistreatment by prison guards, who also started intimidating the detainees by searching their personal belongings and deliberately mishandling their copies of the holy Qur'an.
Some of the captives further told their lawyers that the continuing hunger strike is are intended to protest their indefinite captivity by the US military without charges and with no opportunity to defend themselves or be legally represented in a court of law.
Prison authorities, however, have officially claimed that only 100 of the inmates are on hunger strike, after initially attempting to ignore and discount the drastic protest effort.
The US military has further been forced to admit that at least 30 of the hunger strikers are being force-fed after some of the protesting inmates described the extremely painful procedure to their attorneys and suggested that prison guards actually take the measure to punish inmates who refuse to eat.
During the force-feeding procedures, hunger strikers are shackled and strapped to a so-called feeding chair and then a long tube is forced into their stomach through the inmates' nose to inject liquid nutrients.
This how one of the Guantanamo captives described his experience with force feeding: "I was sick in the prison hospital and refused to be fed. A team from the ERF (Extreme Reaction Force), a squad of eight military police officers in riot gear, burst in. They tied my hands and feet to the bed. They forcibly inserted an IV into my hand. I spent 26 hours in this state, tied to the bed."
The account is that of 35-year-old Yemeni inmate Samir Naji al-Hassan Moqbel, who share the experience in a New York Times article on April 14 with assistance from an Arabic translator and his attorney.
"I will never forget the first time they passed the feeding tube up my nose. I can't describe how painful it is to be force-fed this way," added Moqbel, who has been held captive at the infamous military camp for 11 years after he was picked up by US mercenaries in Pakistan.
What is even more disturbing about the extremely painful practice, condemned by the UN as torture, is that the final decision regarding who will be force-fed is left up to the Guantanamo Commander and not a medical specialist, a recent news report said.
Most of the Guantanamo inmates have been picked up by American military forces in Afghanistan and Pakistan in the aftermath of the US-led occupation of Afghanistan under the pretext of removing the Saudi- and Pakistani-backed Taliban regime and bringing stability to the country.