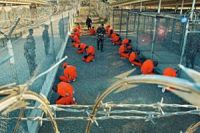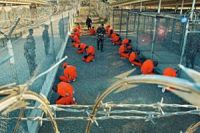 A US government official has notified lawyers of prisoners at the notorious US-run Guantanamo prison that the detainees who can neither be prosecuted nor released will at last have their cases reviewed.
Of the 166 prisoners at the Guantanamo prison, 86 have been cleared for release but no concrete steps have yet been taken to transfer them to other countries.
Earlier this year, US officials also admitted that an overwhelming majoring of Guantanamo prisoners will never be charged and that less than 1 in 8 inmates might ever see the inside of a courtroom.
In an email obtained by investigative journalist Jason Leopold, periodic review secretariat director retired Navy Rear Admiral Norton C. Joerg has told attorneys representing Guantanamo prisoners that the detention of certain prisoners will be reviewed.
The majority of Guantanamo prisoners have been held for over a decade without a charge. And now, after the cases of these "certain detainees" are reviewed, it will be determined whether they should still be indefinitely detained.
More than 130 detainees at the Guantanamo prison have been on hunger strike for five months and a half to protest their indefinite detention and torturous treatments at the hand of US military personnel.
And now, during the holy month of Ramadan, the hunger striking prisoners observe fasting as prison authorities continue to forcibly feed them through nasal tubes, which human rights groups say amounts to torture.