Economy
Global equity markets crash on virus fears, plunge in oil prices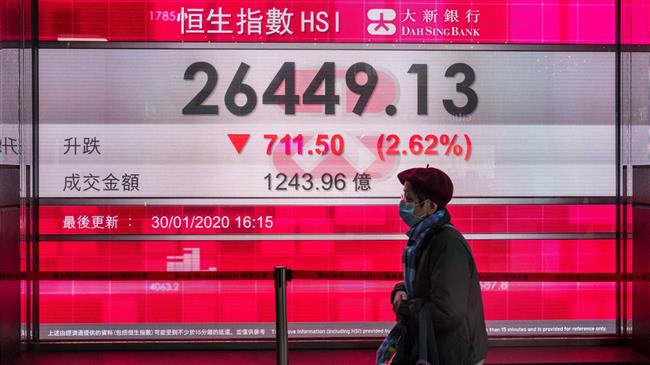 Equity markets collapsed Monday as the rapidly spreading coronavirus fans fears for the global economy, while a crash in oil prices added to the panic with energy firms taking a hammering and wiping hundreds of billions off valuations.
Asia markets crash
Shares in the continent dropped on Monday, with major markets across the region seeing significant losses.
China stocks slumped, as fears over the economic impact of the global coronavirus epidemic were exacerbated by a crash in oil prices that battered financial markets around the world.
The CSI300 index skidded 3.4 percent to close at 3,997.13 points, while the Shanghai Composite Index slid 3.0 percent, to 2,943.29 points.
Sectors fell across the board, dragged down by materials and consumer firms.
For the day, foreign investors sold A-shares worth more than 12 billion yuan ($1.73 billion) via the Stock Connect linking mainland and Hong Kong amid a rush to buy less risky assets.
Still, losses were still limited compared to other markets, helped by the number of new virus cases in China falling and expectations of further Beijing policy support to underpin the world's second-largest economy.
Tokyo's Nikkei average dropped 5.1 percent, closed at 14-month lows as the global spread of the coronavirus and collapsing oil prices fed a heavy sell-off.
Hong Kong stocks plummeted with mounting fears of a global recession triggered by the coronavirus. The Hang Seng Index closed more than 1,100 points down 4.23% closing at 25,040 points.
The number of people infected with the coronavirus topped 110,000 across the world as the outbreak reached more countries and caused more economic carnage.
Indian stocks on Monday recorded their worst single-day fall in more than four years, tracking global markets lower.
The NSE Nifty 50 index closed down 4.90 percent at 10,451.45, its worst daily decline since August 2015.
The benchmark S&P BSE Sensex ended 5.17 percent lower at 35,634.95.
Persian Gulf stocks nosedive after oil prices crash
Stock markets in the energy-rich Persian Gulf states were battered on Monday as oil prices crashed amid a price war after crude producers failed to reach a deal on output.
All the seven Persian Gulf markets were in the red for the second day in a row, with the Saudi Tadawul bourse sliding by 9.4 percent at start before recovering some of the losses.
The Saudi market was trading down 6.1 percent at mid-session with the energy giant Saudi Aramco sliding 6.8 percent after slumping 10 percent at the start.
In the past two days, some $270 billion were shaved off the capital value of the largest listed firm in the world. Its capitalisation stands at $1.49 trillion, way below the $2 trillion sought by the kingdom.
Kuwait's Premier index tumbled 10.3 percent and trading was suspended for the second day in a row, while the All-Shares Index lost 8.6 percent.
Dubai Financial Market dropped 8.3 percent at close, its worst level in seven years but authorities suspended trading in most leading stocks after slumping the maximum daily limit of 10 percent.
Abu Dhabi Securities Exchange shed 8.1 percent to a four-year low, while the Qatar Stock Exchange was down 9.7 percent.
The tiny bourses of Oman and Bahrain dipped 5.6 percent and 5.8 percent, respectively.
The seven bourses took a first beating Sunday, the first trading day of the week, shedding tens of billions of dollars from their values, with Saudi Arabia tumbling by 8.3 percent.
Oil prices are so sensitive for the six-nation Gulf Cooperation Council (GCC) alliance as they generate between 70 percent and 90 percent of public revenues.
The crash in oil prices comes at a time when all the six nations — Saudi Arabia, Bahrain, Kuwait, Oman, Qatar and the United Arab Emirates — have been struggling to meet persistent budget deficit as they resort to austerity measures.
Coronavirus impact
Oil prices crashed at the opening on Monday with the benchmark Brent crude diving to $36 a barrel.
The crash in oil added to the panic that the ongoing price war may continue for a long time.
"The message they (the Saudis) are podcasting: as long as it takes," Anas al-Hajji, a Texas-based oil expert said about the duration that oil price may continue.
"But given the sharp price decline… it is hoped they will start cooperating again in May… but most likely it will happen in July," when OPEC meetings are scheduled, Hajji told AFP.
As the deadly coronavirus disease claims more lives around the world, dealers are fleeing out of riskier assets and into safe havens, sending gold and the yen surging and pushing US Treasury yields to new record lows.
Saudi Arabia launched an all-out oil war Sunday with the biggest cut in its prices in the past 20 years, Bloomberg News reported, after OPEC and its allies failed to clinch a deal to reduce output.
The Saudis "are responding to Russia's exit from output cuts by launching a price war," Bill Farren-Price, director of Britain-based R S Energy, told AFP.
Coronavirus could bring global economy to standstill: Report
The global economy could come to a standstill because of the new Coronavirus, shows a report.
European stocks plunge into bear market as oil crashes
European shares slumped on Monday, with the benchmark STOXX 600 in bear market territory, as fears of a global recession were amplified by a 25 percent plunge in oil prices and a lockdown in northern Italy to contain the coronavirus outbreak.
The pan-European STOXX 600 fell 7 percent, meeting the common criteria for a flip into a more negative "bear" environment, implying a 20% drop from all-time highs. The index was on course for its biggest percentage drop since June 2016, when Britain voted to exit the European Union.
European firms have now lost nearly $3 trillion in value since the rapid spread of the coronavirus sparked a worldwide selloff in February.
Europe's oil & gas index tumbled 13%, after Saudi Arabia launched an oil price war with Russia by slashing its official selling price and outlining plans for an increase in crude production next month.
London's commodity-heavy FTSE 100 was down 6 percent, with oil majors BP and Royal Dutch Shell both off almost 20 percent and set for their worst day ever. A whopping 38 percent drop sent Tullow Oil to the bottom of the STOXX 600.
"Wild is an understatement," said Chris Brankin, chief executive at TD Ameritrade. "I figured maybe we'd see a 5 percent or 10 percent drop in the oil market, but 25% down has literally just spooked the rest of the market."
All European sub-sectors were deep in the red, with growth-sensitive miners, automakers, banks and insurers falling between 6 percent and 8 percent.
Defensive sectors, considered safer during times of economic uncertainty, also posted slight losses.
Italy's blue-chip index shed 9 percent, the most among regional indexes, after the government ordered a virtual lockdown across much of its wealthy north, including the financial capital Milan, in a drastic new attempt to try to contain the virus.
The government has pledged about 7.5 billion euros ($8.55 billion) in measures to aid an economy already on the brink of recession.
In the starkest warning yet of the economic damage from the health crisis, yields on 10-year U.S. Treasuries, the benchmark for global borrowing costs, dropped to a record low of 0.4258%. German 10-year bond yields fell to a new record at -0.8 percent.
"What we're seeing is a supply driven shock, it's not a demand problem," said senior equity analyst Renata Klita, at asset manager London & Capital.
"But now with what's happening with oil, I would say it's more likely (to become a demand shock) because you have this big sector that's affected."
All eyes are now on the European Central Bank's policymeeting on Thursday, following interest rate cuts by central banks in the United States, Canada and Australia last week to soften the blow of the outbreak.
(Source: Agencies)