World News
Govts. cautiously lifting lockdowns as COVID-19 deaths surpass quarter-of-a-million
The world has started to cautiously reemerge from strict lockdowns and quarantines of the past few months, as deaths from the COVID-19 disease have surpassed a quarter of a million — 252,4800 — globally, and the global caseload now stands at 3,646,225, according to Johns Hopkins University data.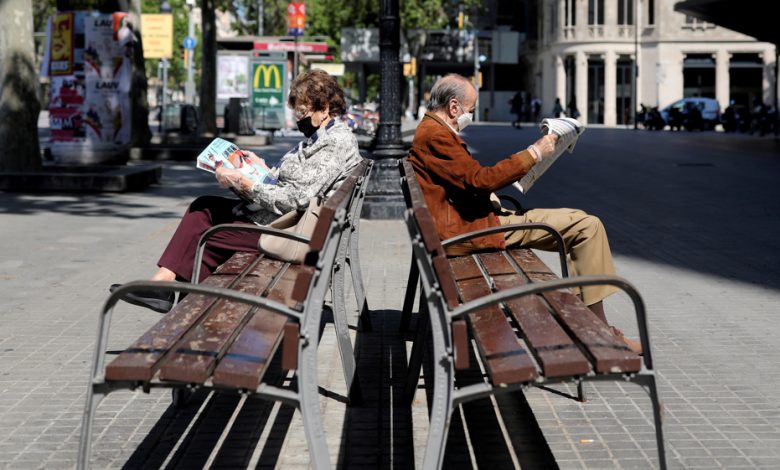 Many governments are now moving to lift restrictions to revive their stricken economies, despite health experts' fears of second waves of infection.
A new survey conducted in 11 countries shows that two-thirds of respondents expect their governments to prioritize saving lives over restarting businesses.
More than 13,200 respondents in the survey, conducted by US communications firm Edelman, in countries that included China, France, Germany, India, Mexico, Saudi Arabia, and the United States approved of continuing restrictions.
The United States and Italy, the world's worst-hit and third-worst-hit countries respectively, are among those that have already started easing lockdowns.
US President Donald Trump, who is facing a difficult election campaign, is hastily reopening the economy, though his country has recorded 1,212,900 cases and 69,921 deaths, the highest anywhere in the world.
The US is reopening businesses in at least half of its 50 states, though researchers at the University of Washington predict that 135,000 Americans will die from the epidemic through the beginning of August — almost double the last prediction.
Italy allowed about 4.5 million people to return to work after nearly two months at home. Construction work can resume and relatives can reunite as well.
Italy has recorded almost 29,079 deaths and more than 210,700 infections to date, according to the national Civil Protection Agency.
In Europe, Spain, with 248,301 cases of infection and 25,428 deaths; Portugal, with 25,524 cases and 1,063 deaths; Belgium, with 50,267cases and 7,924 deaths; and Finland, with 5,327 cases and 240 fatalities, are reopening factories and construction sites and lifting socials restrictions.
Malaysia, Thailand, and Lebanon are also among the countries lifting virus restrictions and reopening businesses.
Australia and New Zealand have also agreed to begin work on allowing travel between the two countries.
Australia has so far recorded 6,847 cases of positive COVID-19 and 69 deaths. In New Zealand, some 1,486 people are infected and 20 have died. Health officials recorded no new cases of infection for a second day in a row on Tuesday.
German Chancellor Angela Merkel will also discuss easing coronavirus restrictions in a teleconference with state premiers on Wednesday, Reuters reported.
Meanwhile, the number of known infections in Germany has increased by 685 to 163,860. The reported death toll also rose by 139 to 6,831, according to data from the Robert Koch Institute (RKI) for infectious diseases.
Across the continent, Russia also reported 10,102 new cases over the past 24 hours.
The number brought Russia's nationwide tally to 155,370, according to the country's coronavirus crisis response center. It also reported 95 new deaths on Tuesday, bringing the total death toll in Russia to 1,451.
[IMAGE 2 HERE, PLEASE]
President Vladimir Putin said that restrictions in Russia could be extended "depending on how the events will unfold," according to his spokesman Dimtry Peskov.
In India, the second most populous country after China, which is at risk of a second wave of infections, the easing of a six-week lockdown brought large crowds of people to liquor shops after they opened on Monday.
Police baton-charged hundreds of people, who lined up in large numbers in front of shops to purchase alcohol.
That prompted authorities in the capital to impose a special tax of 70% on retail liquor purchases in the capital, New Delhi, from Tuesday to deter large gatherings at stores.
India reported 3,900 new infections on Tuesday, its highest single-day rise, which took the nation's tally to 46,432.
India's death toll stands at 1,568.
In Latin America, Brazil's indigenous leaders wrote a letter to the World Health Organization (WHO), asking for an emergency fund to be provided for their communities.
They asked for help to provide their people with personal protective equipment (PPE) that is unavailable to health workers in tribal reservations and villages in remote areas of the Amazon region.
The government of Brazilian President Jair Bolsonaro has not included the communities in national plans to fight the coronavirus outbreak.
The appeal to WHO was made after dozens of public figures groups signed an open letter to Bolsonaro urging him to protect the country's indigenous people.