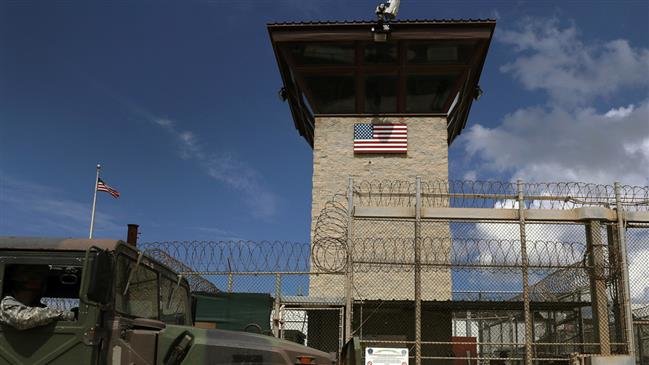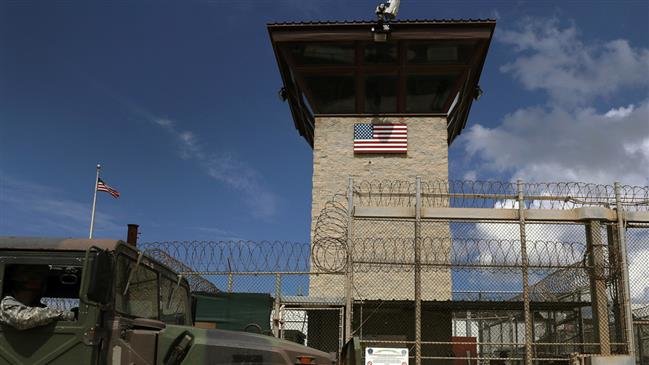 Horrifying descriptions of how CIA and FBI agents tortured their captives — caught for alleged links to terrorism in the US government's so-called 'war on terror' effort following the Sept. 11, 2001 incidents – have been read aloud during a trial of prisoners held at the infamous Guantanamo military prison.
"An alleged plot mastermind was taken nude from interrogation to a medical officer, who put fluids up his rectum then returned him nude to interrogation. Some captives were kept like "cowering dogs," subjected to standing sleep deprivation, abdominal and facial slaps, in what one CIA agent called a "nightmare"," US-based daily Miami Herald reported Friday, quoting statements made in the military court by 9/11 Prosecutor Jeffrey Groharing.
According to the daily, Groharing read the descriptions from various material his team had provided defense lawyers in a bid to prompt a new 9/11 trial judge, Marine Col. Keith Parrella, to restore the FBI interrogations of the alleged plotters that Parrella's predecessor had excluded from the trial.
US military judge tried to suppress torture evidence
The original trial judge, Army Col. James L. Pohl, had suppressed the information about the interrogations by FBI agents in August because prosecutors had blocked defense attorneys from speaking to CIA witnesses.
The court-appointed lawyers defending the Gitmo prisoners, however, insisted on obtaining a graphic description of torture and abuse carried out in CIA's overseas black-site prisons in a bid to argue that the 2007 FBI interrogations at Guantanamo were tainted by the earlier torture.
Pohl had found that without an independent probe by the defense-team, the defense lawyers would not have enough evidence to argue exclusion of the interrogations of alleged mastermind of the 9/11 attacks, Khalid Sheik Mohammed, and four other defendants at Guantanamo in 2007. So he suppressed them. Then Pohl handed off the case to Parrella and retired from 38 years in the military.
"The CIA is not on trial," Groharing told Parrella on Thursday as quoted by the daily. He further insisted that this is the trial of the five men accused of plotting the mass murder by hijacking of nearly 3,000 people in New York, Pennsylvania and at the Pentagon on Sept. 11, 2001.
The CIA held the five suspects incommunicado and subjected them to cruel treatment from 2002 and 2003 to their transfer to Guantanamo in September 2006. They were then arraigned on May 5, 2012 under an Obama-era format for military commissions that prohibited the use of tortured or coerced interrogations from the military commissions.
According to the report, the case has been in pretrial hearings, often arguing over access to evidence, ever since. No trial date has been set.
"It's really not a secret what happened to the accused in CIA custody. It's a matter of how it's shaded or flavored, if you will," the 9/11 prosecutor further admitted, arguing that defense attorneys have enough prosecution-furnished, CIA and judicially approved summaries of what occurred in the black site prison network to defend the suspects in the death-penalty case.
Groharing, the report emphasized, offered "the most lurid, detailed descriptions of what was inflicted upon the captive, known as KSM, yet uttered in the war court."
Defense lawyers shed light into depth of CIA cruelty
The daily noted, however, that Mohammed's death-penalty defender, David Nevin, insisted that the prosecution-picked details about the abusive treatment of the men were insufficient for a fair trial.
Nevin further challenged the prosecutor's argument, pointing out that the government had condensed a description of a 15-hour interrogation into a page-and-a-half summary.
For instance, he added, the prosecution provided evidence that Mohammed was "rectally rehydrated," but does not describe how it was done. "Does somebody hold his legs apart? Is he naked? Was lubrication involved? How did they do it?"
'US lacks moral authority to execute 9/11 suspects'
Defense lawyers for the men who went missing in CIA detention from 2002 and 2003 to 2006 want even more exacting eyewitness testimony. They want to argue that the United States has lost the moral authority to execute the alleged 9/11 conspirators, if convicted.
"My imagination fails when it comes to how badly these men were treated … in this dungeon they created," said attorney Jay Connell, representing Mohammed's nephew Ammar al Baluchi. He further emphasized that it was unimaginable, before this week's revelation that CIA agents considered using "truth serum" in their secret prison network.
Connell also underlined that the so-called vivid descriptions offered by the prosecution were woefully insufficient and shouldn't substitute for evidence provided by actual eyewitnesses and original CIA cables.
"Where did they hit him? In the head? In the stomach? In the scrotum? What kind of sounds does he make? Does he flinch? Does he wince? Does he cough? Does he beg?," Connell said. "Is he gaunt? Is he starving? Is steam coming of his body when they douse him in cold water?
"What does it look like when a person is so humiliated? Do they cry? Do they whimper? That's the kind of information that is a rich and vivid account."
The prosecutor had earlier invoked quotes from anonymous CIA black-site eyewitnesses who said they were "ashamed," saw a "nightmare" and observed detainees held at in one overseas prison like "cowering dogs."
He also offered accounts, provided to defense attorneys in summaries, of the 9/11 defendants' rectal rehydration, sleep deprivation, kept nude in interrogation, put in stress positions and, in the instance of Mohammed, having his hair and beard shaved off.