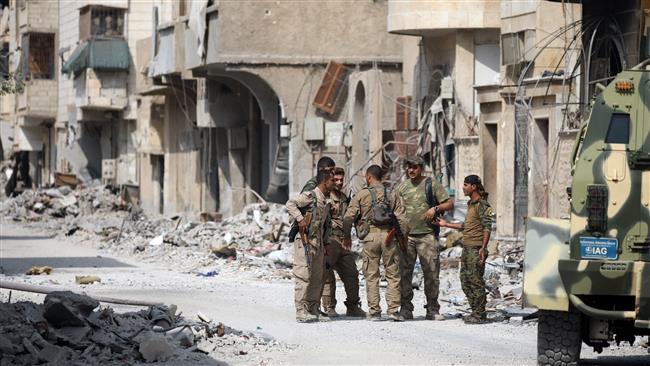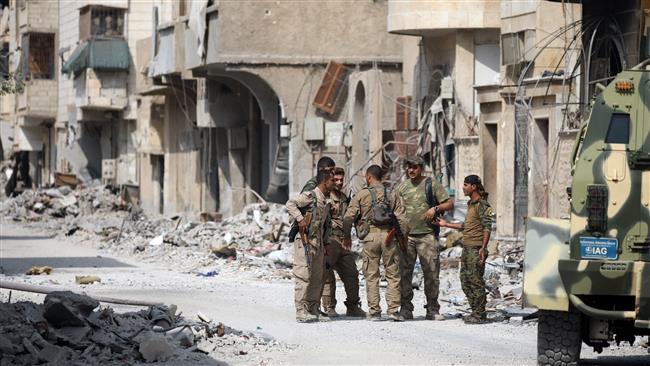 The so-called Syrian Democratic Forces (SDF), a US-backed group of Kurdish and Arab forces, has reportedly wrested control over 90 percent of the northern Syrian city of Raqqah, which used to serve as the main Daesh stronghold in the country.
Rami Abdel Rahman, the head of the so-called Syrian Observatory for Human Rights (SOHR), said on Wednesday that Daesh "withdrew from at least five key neighborhoods over the past 48 hours."
The Daesh retreat "allowed the Syrian Democratic Forces to control 90 percent of the city," he added, stressing that the terror group is now "confined" to Raqqah city center.
"The difficulty in advancing and fully clearing these neighborhoods is linked to the mines that IS (Daesh) has left behind," he noted.
Daesh captured Raqqah in July 2014 and declared the city its stronghold in Syria. The SDF launched its assault on Raqqah on June 6.
The Syrian army soldiers, backed by allied fighters, are also engaged in counter-terrorism operations around Raqqah.
Daesh has lately retreated from much of the territory under its grip amid sweeping advances by the Syrian forces on the battlefield.
Earlier this month, the Syrian government forces broke the three-year-long Daesh siege on Dayr al-Zawr, which is currently the main Daesh base in the country.
Tens of thousands of civilians have fled Raqqah in recent months, but up to 25,000 people are estimated to be still trapped in the city.
Separately on Wednesday, the Syrian army released 21 civilians held up in a Daesh hideout on the western outskirts of the city of Dayr al-Zawr.
Additionally, Russian warplanes bombed terrorist targets in the western provinces of Idlib and Hama.
Russia has been conducting air raids against Daesh and other terrorist outfits inside Syria at the Damascus government's request since September 2015.