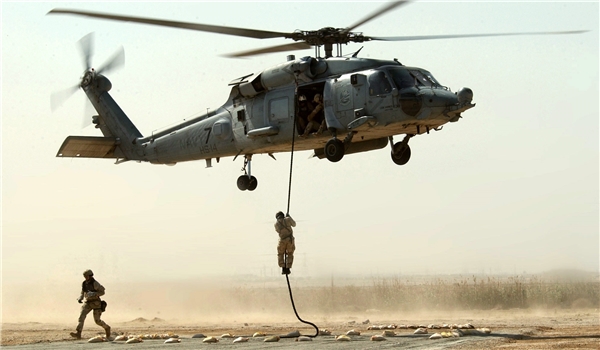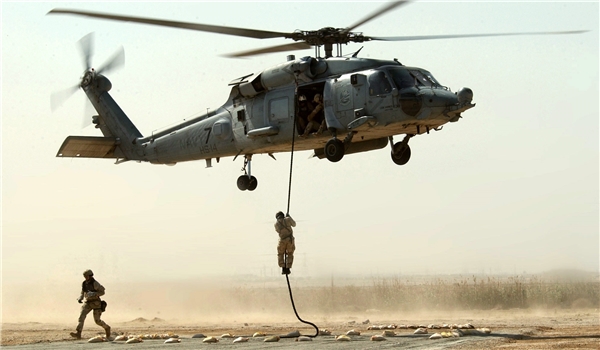 The US forces have intensified their heliborne operations to evacuate ISIL terrorists, including a Belgian, to a Washington base in Hasaka province, local sources reported on Tuesday.
The sources said that two US helicopters carried out heliborne operation in Tuwaimin region Southeast of the town of al-Shadadi and transferred a number of ISIL terrorists to Sabah al-Kheir center that is a US training base 20 km South of Hasaka city on Sunday.
The sources further said that the helicopters carried out another heliborne operation near the village of Tuwaimin on Thursday and evacuated four ISIL terrorists, including one form Belgium, without any clashes.
In the meantime, other sources said that Abu Qassim al-Iraqi, an ISIL commander, and his aids have escaped from the region with a hefty amount of stolen money.
The US helicopters had previously evacuated a number of ISIL terrorists, including a security commander, from Tuwaimin to al-Houl camp in Eastern Hasaka.
Local sources in Hasaka confirmed earlier this month that the US helicopters conducted heliborne operations in the village of Tuwaimin, 50km Northeast of al-Shadadi, in Southern Hasaka.
The sources said that 4 militants, including an ISIL security commander, were evacuated from the region in the operations.
The area where the operation took place is still occupied by the terrorist group.