Human Rights
North America
Great Satan US keeps Guantanamo Bay prison open through 2020, blocks prisoner transfers
The notorious US military prison at Guantanamo Bay in Cuba is set to stay open for at least another year and prisoner transfers to the United States will continue to remain prohibited, according to a recently-passed law.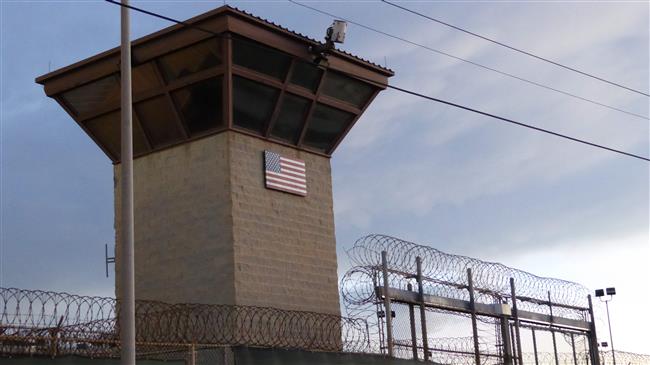 The US-based Military.com news outlet reported on Thursday that provisions outlined in the new National Defense Authorization Act signed into law on December 20 by US President Donald Trump would bar the use of government funds to conduct a shutdown of the detention facility.
The law would also "continue to prohibit Guantanamo detainees from receiving medical care or prosecution within the US through December 31, 2020."
The controversial camp currently holds 40 inmates, down from 800 after its 2002 opening in the aftermath of the 9/11 terrorist attacks on US soil.
The Guantanamo detention camp is a United States military prison located on the coast of Guantánamo Bay in Cuba, where many terror suspects have been kept indefinitely without charge amid reports of torture.
Guantanamo Bay prison commander fired: PentagonUS Navy Rear Adm. John Ring has been relieved of duty due to "loss of confidence in his ability to command" just weeks before leaving the job.
Former US President Barack Obama had pledged during his 2008 presidential campaign to close the military prison, but failed to fulfill his promise in the face of stiff opposition from the Congress.
In a speech in December 2016, Obama expressed disappointment over failure to close the prison during his term in office, saying it was a disgrace and a waste of money.
Trump, however, said in January last year that he had signed a new executive order to keep Guantanamo open indefinitely.
Trump signs order to keep Guantánamo Bay prison openPresident Trump says he has issued an order to keep the US military detention center at Guantánamo Bay, Cuba, open.
A Senate report in December 2014 revealed that the CIA had used a wide array of sexual abuse and other forms of torture as part of its interrogation methods against prisoners at Guantanamo.
The total cost of running the Guantanamo detention facility in 2018 was at least $540 million, according to a September report by The New York Times.