North America
Syria
World News
Great Satan US Plotting to Take Control of Key Iraq-Syria Border Crossing
A senior commander of the Iraqi Popular Mobilization Forces (Hashd al-Sha'abi) warned against Washington's plot to establish its control over a key border crossing with Iraq in a bid to relocate the terrorists from Syria to that country.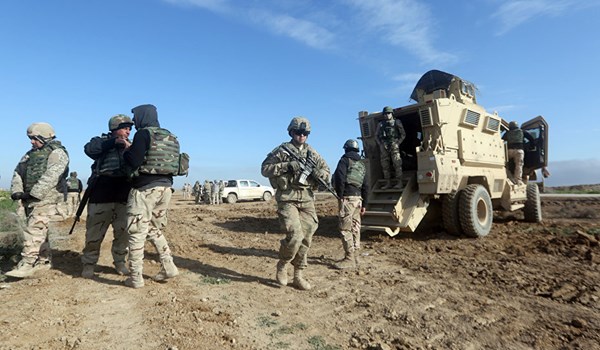 According to the security and intelligence reports, 18 US armored military vehicles have been stationed along Iraq-Syria border, the Arabic-language al-Alam News Website quoted Hashd al-Sha'abi Commander Hashem al-Mousavi as saying.
Al-Mousavi pointed to the US Army troops' plan to provoke Hashd al-Sha'abi forces deployed along the Iraq-Syria borders into clashes, and said that the Americans intend to take control of Bukamal border crossing along Iraq-Syrian borders to pave the way for ISIL terrorists to cross into Iraq.
Al-Mousavi also pointed to the US efforts to disturb security in Iraq to continue its military presence in that country, and reiterated that Hashd al-Sha'abi forces are fully prepared to confront the US troops in case they open the borders to the ISIL.
In a relevant development on Friday, the US has increased reconnaissance operations in Western Iraq, a security expert said, warning that the American forces are attempting to transfer the ISIL and other terrorists from Eastern Deir Ezzur and Idlib to safe regions in Iraq.
The Arabic-language al-Ma'aloumeh news website quoted Kazzem al-Haj as saying that the US forces have recently conducted extensive reconnaissance operations in Western Iraq and regions near the borders with Syria.
He added that the Americans want to boost the number of terrorists in Iraq, saying that the reconnaissance operations were carried out to find a proper place to shelter the terrorists from the Iraqi and Syrian security forces' fire.
Al-Haj underscored that Washington intends to transfer the ISIL terrorists in Deir Ezzur as well as other militants in Idlib province to a safe area in Iraq, to be controlled by them from air and ground, as the Syrian army and its allies are preparing for possible operations against the terrorists.
In relevant remarks earlier this month, an Iraqi security expert warned that the US plotted to help several thousands more ISIL terrorists move from Syria to Iraq.
"Washington plans to help 5,000 more ISIL terrorists get out of Syria and reach Iraq," Sabah al-Akili told al-Maloumeh.
The Iraqi security expert described the US move as an attempt to create insecurity inside Iraq as the Iraqi parliament is determined to expel ISIL terrorists from Iraq.
"The US intends to gather up the ISIL terrorists in Iraq to release them later exactly as it did before," al-Akili said.