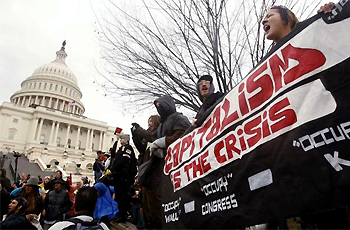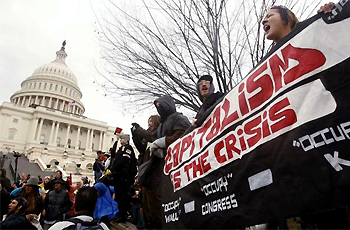 Great Satan US police evicted anti-Capitalism protesters who had set up a new encampment in Mosswood Park in Oakland, California, despite the protesters attempt to keep their location secret.
The Oakland protesters set up their tents in Mosswood Park near downtown Oakland on Wednesday night, which remained there until midmorning Thursday when the police finally found the site despite the fact that the protesters tried to keep their location secret to organize the anti-Capitalism protests.
The anti-Capitalism protesters (99-percenters) said the move was a reaction to the latest arrests of dozens of the protesters in New York as well as the killing of the unarmed Florida teenager, Trayvon Martin, a 17-year-old African American.
According the anti-Capitalism protesters' website, around 30 people camped at the park during the night to show their solidarity with the movement.