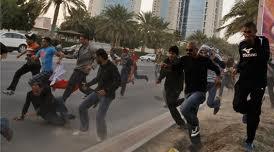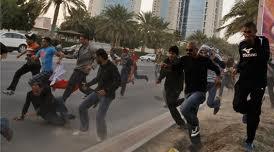 Brutal Bahraini regime forces attacked revolutions amid a 10-day sit-in protest held near the capital. Meanwhile, activists accused the United States of assisting regime forces in their crackdown.
Government forces on Thursday raided protesters demanding the downfall of the ruling Al Khalifa family in Manama, and several nearby villages.
The latest crackdown comes amid a 10-day sit-in protest held in Moqsha, near Manama, by anti-regime protesters who aim to press ahead with their demands.
The protests are planned to continue until February 14, the day marking the start of the popular revolution in the kingdom in 2011.
The revolutionaries are also demanding the release of political prisoners.
US TRAINING REGIME FORCES
In the meantime, activists have accused the United States of assisting the Manama regime in its violent crackdown.
The activists have published photos that apparently show the US troops training Bahraini regime forces in their crackdown on protests.
Bahrain hosts the US Fifth Fleet, and is among the Gulf countries such as Kuwait, Oman, Qatar, Saudi Arabia and the United Arab Emirates (UAE) that receive military equipment from the United States.
On January 27, the US State Department issued a statement saying that Washington intended to go forward with the sale of approximately USD 1 million of military equipment to Bahrain.
The statement, however, maintained "a pause on most security assistance for Bahrain pending further progress on reform."
Since the beginning of the popular uprising last year, Dozens of people have been martyred and thousands more have been arrested and put in jail or fired from their jobs in the country.
In addition, many health workers, teachers, opposition figures and human rights activists in Bahrain are still facing trial or serving prison terms over participation in anti-government demonstrations.