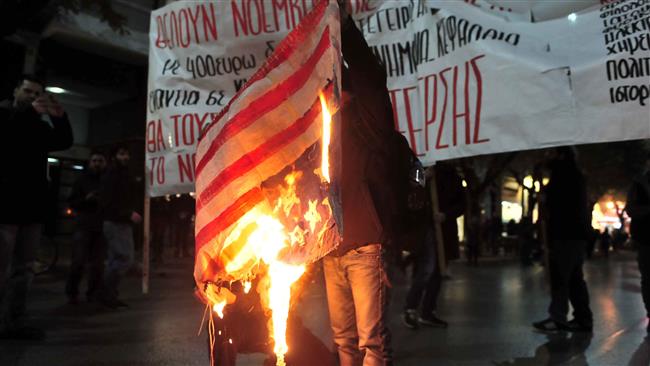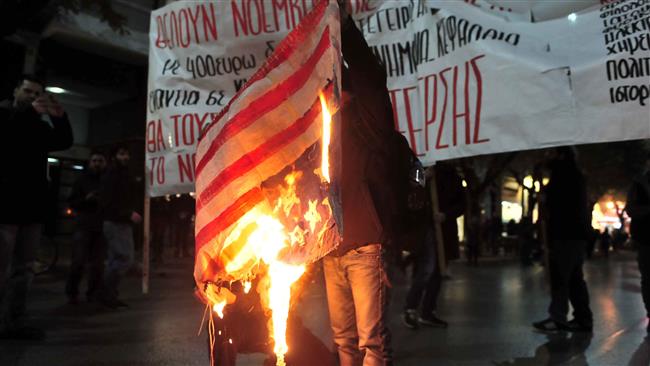 Clashes have erupted between police and protesters in Athens and another major city on the 43rd anniversary of a student uprising that was brutally crushed by the then-military junta in the country.
Dozens of protesters occupied on Thursday the National Technical University complex, also known as the Polytechnic, the site of the 1973 failed uprising against the former junta, in Athens.
They hurled petrol bombs, flares and stones at riot police deployed to the area. Police responded with tear gas and stun grenades.
On another quarter of the capital, however, a massive demonstration peacefully marked the anniversary.
Some 17,000 protesters, including students, workers and pensioners, marched to the US Embassy in Athens to protest US support for the then-military rule without incident.
Hundreds of police forces were deployed to the city to guard the peaceful rally to the embassy.
Protesters also held banners reading, "We won't become a generation of unemployment and fear," in apparent protest to government-introduced austerity measures in the face of an economic crisis that erupted in 2010.
Clashes also broke out during demonstrations in Greece's second-largest city of Thessaloniki, in the north where around 8,000 people marched to the US Consulate there.
Police detained two suspected rioters after some protesters attacked police with firebombs, and one group burned a US flag outside the building.
Elsewhere, in the northwestern town of Ioannina, the local police chief was injured and hospitalized after a protester hit him on the head with a wooden club.
Extensive clashes had also broken out on Tuesday between riot police and protesters rallying against a visit by US President Barack Obama to Athens.
Many in Greece still condemn Washington for supporting the oppressive dictatorship in their country, which lasted from 1967 to 1974.