Human Rights
Guantanamo prisoners on hunger strike over of Qur'ans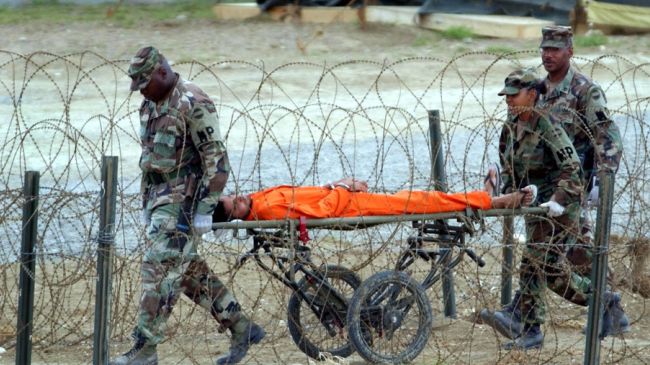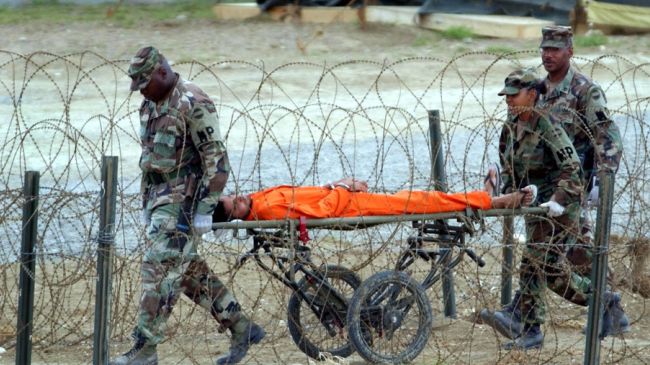 Detainees at the United States' infamous Guantanamo Bay prison in Cuba are staging a mass hunger strike to protest disrespect of the Qur'an and confiscation of personal items, their lawyers and prison officials say.
A detainee is carried by military police after being interrogated by officials at Camp X-Ray at the US Naval Base at Guantanamo Bay, Cuba.
Attorneys for more than a dozen of the prisoners said on Monday that the protest was prompted by a series of searches that began on February 6 in which a number of personal items, including books, CDs, blankets, and legal mail, were confiscated.
"My client and other men have reported that most of the detainees in Camp 6 are on strike, except for a small few who are elderly or sick," AFP quoted Pardiss Kebriaei, a New York lawyer representing Ghaleb Al-Bihani, a detainee from Yemen, as saying.
Camp 6, a 200-cell penitentiary style building, houses the majority of the detainees incarcerated at the US Naval Base at Guantanamo Bay.
Kebriaei said that during his 30-day hunger strike, her client has "lost over 20 pounds (9 kilograms) and has been told by medical personnel that his health is in serious danger as he is also a diabetic."
A prison spokesman, Navy Capt. Robert Durand, said that there were only nine detainees who missed enough meals to be classified under the military's rules as being on hunger strike, adding that five of them were being fed through tubes inserted into their stomachs.
"Refusing delivered food does not make a detainee a hunger striker, not eating does," he said.
"Detainees or an entire cell block may refuse to take any of the fresh, hot meals delivered, but we observe them eating from the ample amounts of food they have in the cell block," he stated.
Barry Wingard, the lawyer for three other prisoners, said that one of his three clients, Kuwaiti Fayez Al-Kandari, lost 26 pounds (12 kilograms) in three and a half weeks, noting that all three were on hunger strike, he added.
Lawyers for more than a dozen of the prisoners said they have sent a letter to the commander of Guantanamo, Rear Admiral John Smith, to denounce "a matter that appears to be rapidly deteriorating and reaching a potentially critical level."
"We have received reports of men coughing blood, being hospitalized, losing consciousness, becoming weak and fatigued," the letter said.
"We understand that Arabic interpreters employed by the prison have been searching the men's Qur'an in ways that constitute desecration according to their religious beliefs, and that guards have been disrespectful during prayer times."
The lawyers called for a quick resolution of the situation, saying "the practices occurring today threaten to turn back the clock to the worst moments of Guantanamo's history."
The United States holds about 166 men at the prison. A mass hunger strike involved many of the prisoners in the summer of 2005 but the protest dwindled after the military began tying people down and force-feeding them liquid nutrients through tubes to prevent them from starving to death.