Palestine
Hamas Calls "Open Confrontation" with Zionists after Second Arson Death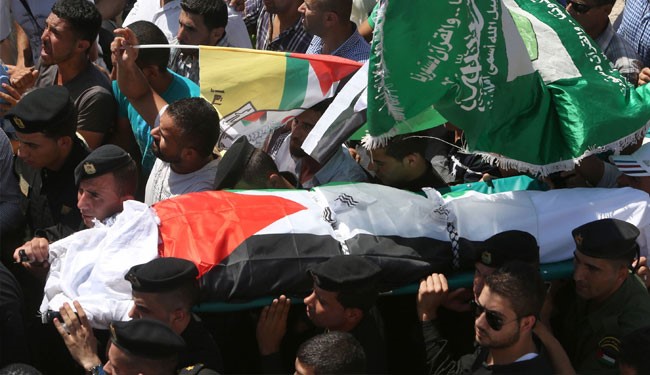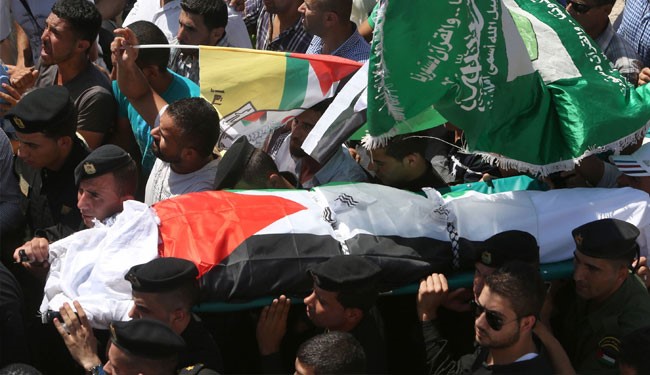 The father of a Palestinian toddler killed when Jewish extremists firebombed their West Bank home died of his injuries Saturday, sparking Hamas calls for an "open confrontation" with Israel.
The arson attack in the village of Duma led to angry Palestinian protests and an international outcry over Israel's failure to curb violence by hardline Jewish settlers.
Saad Dawabsha died in hospital in the southern ocupied city of Beersheba where he was being treated for third degree burns for the past eight days, Palestinian official Ghassan Daghlas said.
Dawabsha's wife Riham and four-year-old son Ahmed are still fighting for their lives in another Israeli hospital after the July 31 arson attack which killed 18-month-old Ali.
The mother (L) of Palestinian Saad Dawabsha, the father of a Palestinian toddler killed last week when their home was firebombed by Jewish extremists, mourns during his funeral in the West Bank village of Duma on August 8, 2015.
The family's small brick and cement home in Duma was gutted by the fire and a Jewish Star of David spray-painted on a wall along with the words "revenge" and "long live the Messiah".
"Nothing will stop these murderous settler attacks and… we cannot wait until they come into our villages and our homes," Hossam Badran, spokesman of the Palestinian Islamic movement Hamas, wrote on Facebook from his base in Qatar on Saturday.
"Our people in the West Bank have only one choice: that of open and comprehensive confrontation against the occupation."
18-month-old Palestinian toddler Ali Saad Dawabsha burned to death by Jewish settlers, As father Saad Dawabsha was buried in Duma on Saturday afternoon, a family friend charged Israeli authorities were complicit in such violence.
"It's a crime committed by the settlers but with the agreement of the occupation," Anwar Dawabsha told AFP.
"It isn't possible that Israel with all its army and its intelligence services still has no information on this attack," he said.
Several thousand mourners turned out to lay Saad Dawabsha to rest, many carrying Palestinian flags, others with portraits of little Ali and the rest of the family.
Earlier a post mortem was performed on the body at An-Najah University Hospital in the nearby city of Nablus.
A Palestinian official told AFP the pathologist's report would be submitted in evidence to back up a complaint to the International Criminal Court (ICC) in The Hague.
The Palestinians on Monday submitted a request to the ICC to probe the firebombing and "settler terrorism".
At a meeting with Palestinian president Mahmud Abbas on Wednesday, Arab foreign ministers agreed to call on the UN to protect the Palestinians from "terrorist crimes" by Jewish settlers.