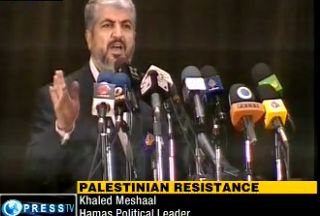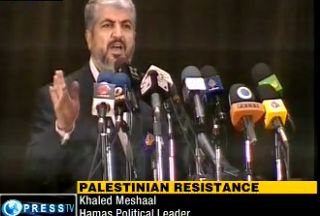 Senior Hamas leader Khaled Mashaal says the movement will not release the captive Israeli soldier Gilad Shalit unless Tel Aviv agrees to meet the Palestinians' demands.
The head of Hamas' political bureau on Monday renewed the resistance movement's call for the release of Palestinian detainees held in Israeli prisons.
Referring to a Sunday demonstration in Israel in support of Gilad Shalit, Mashaal said the rally indicated that the Israelis "now know where the problem lies," saying the Israeli government is responsible for the failure of a prisoner swap deal by backtracking on its previous proposals.
He also expressed hope that the Palestinian resistance fighters will be successful in repeating the act of capturing more Israeli soldiers.
The only language to deal with the Israeli regime is the language of force, he underscored.
Recalling Hamas' response to the German mediators who tried to resume the stalled indirect prisoner exchange talks, Mashaal insisted that any swap deal with Israel must be based on the Palestinians' just demands.
"Gilad Shalit will not be freed unless (Israeli Prime Minister Benjamin) Netanyahu agrees to our just demands," he said, calling for the release the Palestinian prisoners in Israeli custody.
The senior Hamas leader accused Israel of efforts aimed at averting the world's attention from its crimes and against Palestinians during the December 2008-January 2009 Gaza war, and its deadly attack on Gaza-bound aid convoy last months.
Israel is seeking sympathy from the international community over the case of Gilad Shalit to prevent the world from seeing its true image and remembering thousands of Palestinians prisoners, many of whom have been detained for decades, he said.
Condemning Israel's measures to demolish the Palestinian and Islamic history of annexed al-Quds (Jerusalem), Mashaal called for more flotillas to break the Israeli blockade of Gaza and more protests "to reveal the real face of Israel."
He ruled out any direct or indirect negotiations with Israel, arguing the move would grant legitimacy to the "illegitimate" Israeli regime.