Middle East
North America
Palestine
Hamas official says Palestinians will resist Trump's 'deal of century'
A senior Hamas official has told Press TV that Palestinians will resist the so-called deal of the century proposed by the administration of US President Donald Trump, stopping at nothing less than creating an "independent Palestinian state."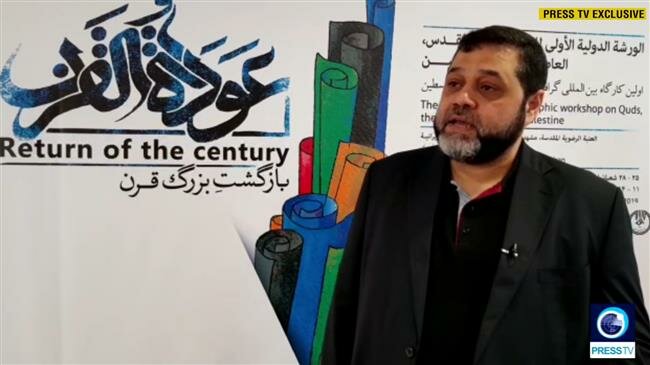 "As Palestinians, we will not accept such ideas. We will resist. No one can accept selling his own land. We will not accept Jerusalem al-Quds being the capital of another state; it will be the capital of the Palestinian state forever," said Hamas' international relations committee head Osama Hamdan on Friday.
Hamdan made the comments on the sidelines of the first "Return of the Century" international graphic arts workshop for Palestine, which is currently being held in Mashhad, Iran.
The workshop has been held in a bid to raise awareness about the Israeli occupation of Palestine as well as Trump's "deal of the century," which is designed to do away with the Palestinian people's right of return to their own land.
Trump's "peace plan" is expected to be unveiled at the end of the holy month of Ramadan, in June.
Describing the so-called plan as "a new Israeli-American arrangement" for the region, Hamdan said that Palestinians stood united against any concessions on the liberation and sovereignty of Palestine.
"We have to liberate it. There are Palestinian refugees that have to return to their homeland and we have to create our own independent state on all the Palestinian lands from the river to the sea," he said.
Hamdan also made reference to what he described as the Palestinian nation's objection to former Egyptian President Anwar Sadat's Camp David negotiations with Israel.
"If anyone of the Arabs is seeking to have relations with Israel, he can bring the Israelis to his homeland, [not Palestine]," he said.
The Hamas official added that, "if anyone wants to do anything good, he has to help the Palestinians and the resistance against the occupation."
Hamas lauds Iran's support for PalestineHamas praises Iran's support for the Palestinian nation against Israel.
Hamdan went on to laud the weekly "right to return" marches that have been held in the Gaza Strip since March 2018 as part of the "resistance against the occupation."
"We will continue the resistance, be it by either the return marches or by military action against the occupation. We will do it until the occupation ceases to exist on Palestinian land," he said.
The "Return of the Century" workshop, which kicked off on May 1 and will continue for three days, is attended by graphic designers from 12 countries. Thirty artists from Iran are also participating in the event.
Return of Century: Iran's graphic workshop on PalestineIran is set to host a workshop on the right of Palestinians to return to their homes amid reports that an imminent US "deal of century" would do away with that right.
According to organizers, 40 posters will be selected to be showcased by pro-Palestinian groups around the world on Nakba Day (the Day of Catastrophe) as well as the International Quds Day.