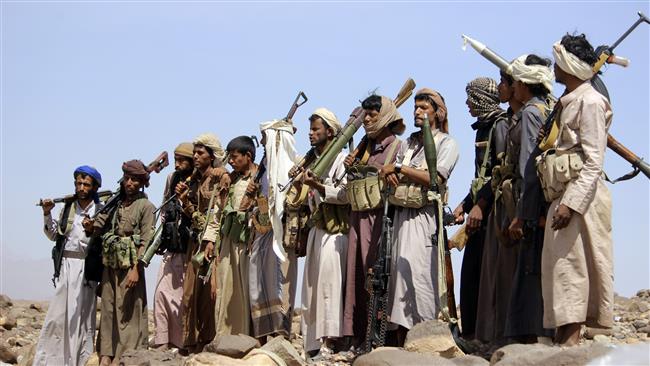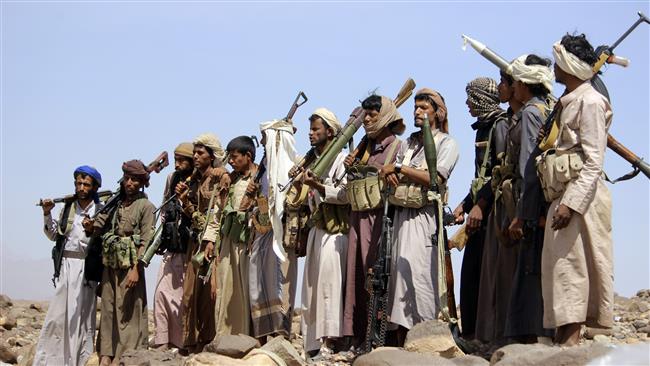 Fierce exchanges of fire have broken out between Yemeni army forces and militants loyal to fugitive former president, Abd Rabbuh Mansour Hadi, in the country's southwestern province of Taiz as Saudi Arabia presses ahead with its air campaign against the Arab country.
The overnight battles erupted in Hawd al-Ashraf and Barid al-Aam districts of the province, though there was no immediate information on casualties, the Lebanon-based Arabic-language al-Aheld news website reported on Wednesday.
Meanwhile, fighters from the Houthi Ansarullah movement have managed to expel al-Qaeda-affiliated militants from the al-Houta district in Yemen's southern province of Lahij.
On Tuesday, Yemeni army soldiers and members of allied Popular Committees made major advances against al-Qaeda terrorists and militiamen from the Salafaist party al- Islah in Jabal al-Arus on the outskirts of Taiz.
A Yemeni man walks amidst the rubble of houses destroyed by Saudi airstrikes on a residential area last month, in the capital, Sana'a, on May 18, 2015. (© AFP)
Meanwhile, Hadi loyalists lobbed a number of mortar rounds at a military base in Yemen's western province of Amran on Tuesday but there was no immediate report on possible casualties and the extent of damage inflicted.
Saudi military aircraft also fired some 200 missiles into al-Malahiz and al-Sabeh districts of the northwestern Yemeni province of Sa'ada over the past 24 hours, Yemeni sources said on Tuesday.
Elsewhere in Yemen, Saudi warplanes conducted four airstrikes against the southern coastal town of Zinjibar.
The Saudi jets also targeted a bridge in Yarim district of Yemen's southwestern province of Ibb, leaving nine people killed and six others injured.
A Yemeni man receives treatment as he rests in his bed at a hospital in the capital, Sana'a, on May 12, 2015, a day after he was wounded in a Saudi airstrike on an arms depot in the Mount Noqum area on the eastern outskirts of Sana'a. (© AFP)
A number of people lost their lives and sustained injuries when Saudi fighter jets struck a house in the southern province of Dhale.
Additionally, Saudi warplanes bombarded the Technical Institute and the international airport in the Yemeni capital of Sana'a on three separate occasions on Tuesday.
Smoke billows from buildings following a Saudi airstrike in the Yemeni capital of Sana'a on May 11, 2015. (© AFP)
Saudi Arabia's air campaign against Yemen started on March 26 – without a UN mandate – in a bid to restore power to Hadi, who is a staunch ally of Riyadh.
The United Nations says since March 19, over 1,800 people have been killed and 7,330 injured due to the conflict in Yemen, which was exacerbated by the Saudi airstrikes.