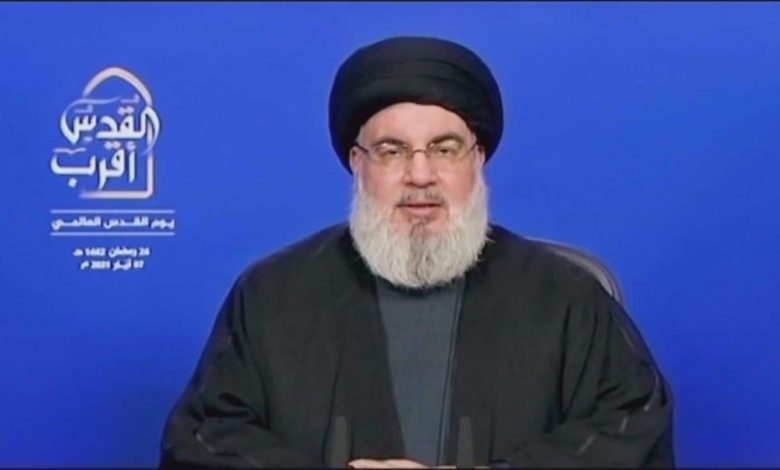 "Israel's life will soon reach its end," Sayyed Hassan Nasrallah said while delivering a televised speech on Wednesday, Lebanon's al–Manar television network reported.

"There is indeed very little left of its lifetime," the Hezbollah leader added.

He reiterated that "normalization deals will never be able to protect the Israeli occupation," citing the "deep political, social and moral crises in the Zionist entity."
Nasrallah made the remarks ahead of the upcoming International Quds Day, the last Friday of the holy Muslim fasting month of Ramadan, which was designated by the late founder of Iran's Islamic Revolution Ayatollah Khomeini in 1979 to express support for and solidarity with the people of Palestine in the face of Israel's acts of aggression.
The Hezbollah leader stressed the resistance front's commitment to the Palestinian cause, urging more aid for the Palestinian nation as well as the resistance front.
He also warned the Israeli occupier that "if they do not leave Palestine, they will be returned to their native countries by force or other means," stressing that "Palestine is for the Palestinians … not for the Israeli settlers, occupiers and colonizers."
Hezbollah leader also mentioned the fall of so-called Trumpism and noted that the resistance front has emerged "powerful and steadfast" in the face of the certain opposing regional alliances that waged military, security, psychological, and economic wars and launched propaganda campaign and psychological warfare in vain to defeat resistance.
Nasrallah hailed the oppressed Palestinian people for their resistance, stressing that the "Palestinians' commitment to their rights will prevent the whole world from eradicating the Palestinian cause."https://if-cdn.com/bbBxgJI?v=1&app=1
He also lauded former commander of the Quds Force of the Islamic Revolution Guards Corps (IRGC) Lieutenant General Qassem Soleimani, stressing that his support of the resistance front in the region will never be forgotten.
General Soleimani was martyred in a US strike near Baghdad International Airport in January 2020, upon a direct order from the previous hawkish US president.
In September 2020, the United Arab Emirates was the first country to establish full diplomatic relations with Israel as part of an agreement brokered by former US President Donald Trump.
Bahrain also signed the accord with Israel, followed by Morocco and Sudan.
The deals sparked outrage across Muslim countries that denounced it as a stab in the back of the Palestinian cause.
In defiance of global criticism, Trump, the most pro-Israel American president, had also relocated the US embassy from Tel Aviv to Jerusalem al-Quds in December 2017, calling the holy occupied city Israel's "capital."
Emboldened by Trumps' support, Israel intensified its acts of aggression against the Palestinians during the hawkish president's time in office, pressing ahead with its much-criticized policies, including construction of new settler units on occupied Palestinian land.