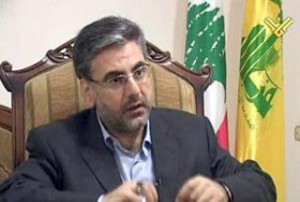 The director of Hezbollah's office of international relations, Nawaf al-Moussawi, has ridiculed the idea of the enemy seeking to defeat the resistance through non-military means.
"After they failed in the July 2006 confrontation, they resorted to other means to target the resistance and infiltrate security agencies in Lebanon," the Naharnet news website quoted Moussawi as saying on Sunday.
It would be foolish to think that the enemy would be able to defeat the resistance through non-military means "after they failed to defeat it through military confrontation," he added.
Pointing to a security treaty signed by Washington and Beirut, the Hezbollah official said the agreement was meant to help the US with its efforts to "interfere in Lebanese internal security affairs anytime they want."
Moussawi called on Lebanese Prime Minister Saad Hariri to fulfill his promise "by tackling the issue of the security treaty in a way that spares Lebanon the harm caused by the content of some of the treaty's articles."
"We are currently evaluating the circulars issued lately by the general director of the Lebanese Internal Security Forces, Maj. Gen. Ashraf Rifi. This means that the battle we fought to contain the threats of the security treaty is moving forward. The present era is of great significance since it will lead to the end of US hegemony in Lebanon. We will reach a moment at which the US administration can no longer decide anything in Lebanon," Moussawi said.
The Hezbollah official also stated that the resistance would reevaluate every treaty signed by Lebanon and the United States.
"Resistance takes the first priority for Hezbollah; therefore, those who try to contain its strength, are delusional because the resistance will not care about anything when the matter is related to its strength," Moussawi noted.