Pakistan
Hizbullah Delegation Visits Pakistan on Palestine Conference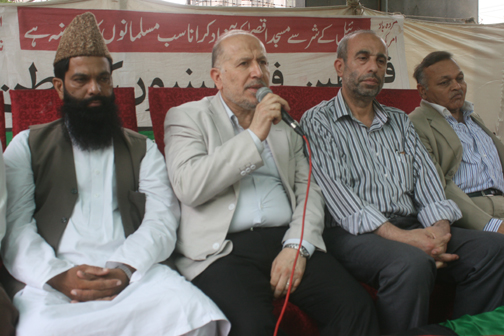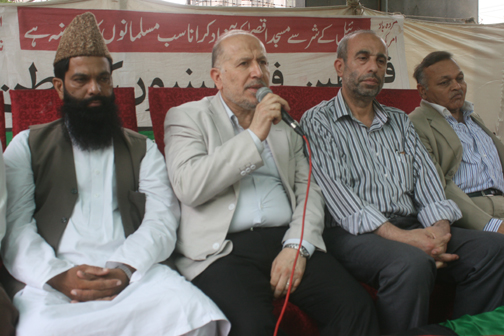 The Palestine Foundation (PLF) of Pakistan chalked out several programs to express solidarity with oppressed Palestinians during the holy month of Ramadan, one of which is the International Palestine Solidarity Conference 2012 organized on July 29 in Islamabad and on July 31 in Karachi.
The Palestine Foundation invited leaders from foreign countries to address these Conferences. Among the main guests were member of Hizbullah Politburo Ahmad Malli.
A large number of officials and members of Pakistan's political and religious parties including Awami National Party, JUP, JUI-F, ISO, Imamia Organization, Insaf Students Federation, Muslim Students Federation, and human rights activists attended the Conference.
Speaking at an Iftar banquet, Dr. Malli, conveyed the message of the Secretary General of Hizbullah His Eminence Sayyed Hassan Nasrallah.
"Hizbullah loves Pakistan very much. Our martyr the Secretary General Sayyed Abbas al-Moussawi visited Kashmir when he came on a Pakistan visit."
On Syria, the Hizbullah official reiterated that Hizbullah supports Syria and won't leave it alone."
For his part, Majlis-e-Wahdat-e-Muslimeen's official presented a memorial shield to Hizbullah officials. Participants of the meeting raised slogans in support of the resistance.
In another event, Dr. Malli and the accompanying delegation called on PPP Sindh chapter general secretary Taj Haider.
The official thanked Taj Haider and informed him that Hizbullah is more powerful as compared to past. "That is why, US and "Israel" are scared of Hizbullah."
He said Hezbollah had adopted a principled stand and its principled stance includes Palestine's freedom . "We are peace loving people but if an enemy imposes war on us we know how to give a tit for tat response."
He said "God willing the al-Quds control would be in the hands of Muslims and there would be no "Israel" on the earth."
This came as thousands of people accorded warm welcome raising slogans in favor of Hizbullah and its resistance when Malli ssrived with Dr Haidar Dekmak arrived to address people at a mosque after Zohr prayers in SadatColony Federal B Area Karachi.
Dr. Malli conveyed Sayyed Hassan Nasrallah's greetings to them and informed them that Hizbullah was celebrating 6th anniversary of 33 days war of 2006. "Pakistan is more strong and powerful than that of blood relation. "Israel" imposed a war in 2006 with a decision to eliminate Hizbullah but by the grace of God, "Israel" experienced a humiliating defeat in 2006 and also in 2008 Gaza war."
The Hizbullah delegation also met Ayatollah Abul Fazl Bahauddini, the representative of the Supreme Leader of the Islamic Resistance Imam Khamenei His Eminence Ayatollah Bahauddini. His eminence paid rich tributes to Hizbullah as he hailed the party as a key player movement and a ray of hope for the oppressed people.
In a later press conference, Malli stressed that ""Israel" would be wiped off the map if Muslim countries including Pakistan, Iran, Egypt and Lebanon start a united struggle against it."
""Israelis" feel that they are unsafe," he confirmed and pointed out that "it doesn't matter if "Israel" returns to pre-1967 borders. We don't recognize any entity that calls itself "Israeli" state. Nor we recognize agreements of Egypt and Jordan with Zionist entity."
He further praised Pakistan for Pakistani support for Palestine and struggle against the Zionist regime.
For his part, Dr Haidar Dekmak said that ""Israel" has demolished more than 3000 houses of Muslims around al-Aqsa mosque."
He warned of "Israeli" plots to reconstruct Suleiman's temple in the place of al-Aqsa mosque.
""Israel" forms serious threat to humanity." He also condemned the criminal role of the United Nations for its inaction in sorting out the Palestinian issue.