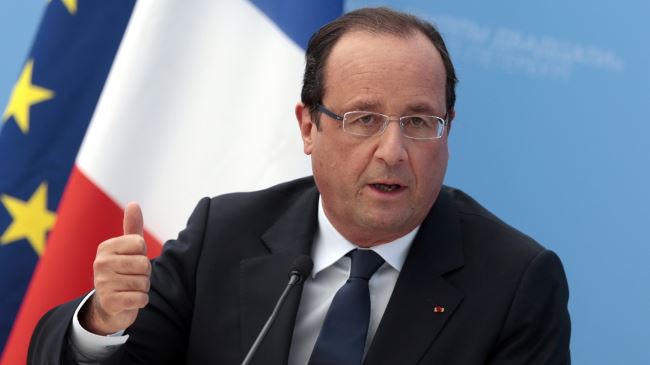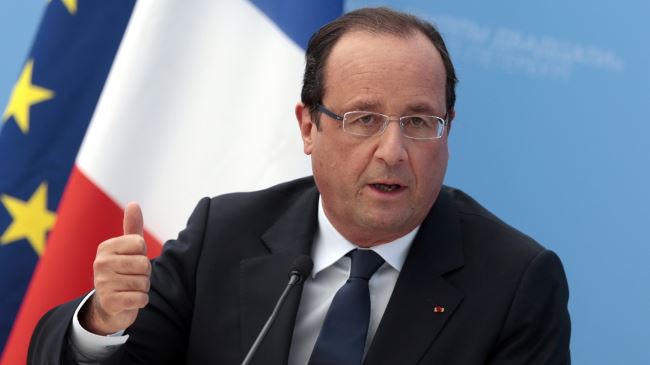 France President Francois Hollande says his country has recently supplied weapons to the foreign-sponsored Takfiri militants operating against the Syrian government.
The French leader said on Thursday that Paris delivered weapons to the Takfiri terrorists in Syria "a few months ago," stressing, "We should not stop" supporting the anti-Damascus militants.
Hollande also called on the United States and European Union countries to join the campaign and said Paris cannot "go it alone."
In an interview with France's Le Monde daily published on Wednesday, the French president said the international community shoulders a "heavy responsibility" with regards to the turmoil in Syria, which has also spilled over into neighboring Iraq.
He also said the ISIL Takfiri militants would never have come into existence if the Syria crisis had been properly handled, adding that other armed militants operating in the country "deserve all our support."
France has been among the major supporters of the Takfiri extremists operating to topple the government of Syrian President Bashar al-Assad since March 2011.
In January, Hollande said some 700 French nationals had taken part in the fight against the Damascus government, adding that Paris needs to warn young people against joining the ranks of extremist groups in the Arab country.
According to some sources, more than 170,000 people have so far been killed and millions of others displaced due to the violence fueled by Western-backed militants in Syria.