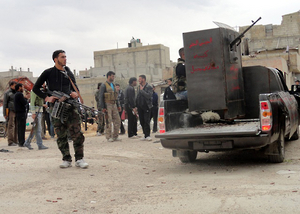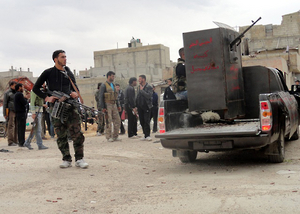 The prominent international human rights organization "Human Rights Watch"
denounced the Syrian armed opposition groups' violation of human rights.
In an open letter to Syrian opposition groups, including the "Syrian National Council" (SNC) Tuesday, Middle-East Director at the Human Rights Watch (HRW) Sarah Leah Whitson confirmed that "Syria's armed groups embark on serious human rights violations, including torture, kidnapping and execution of the security forces as well as government's supporters."
Whitson lashed out at the armed gangs in Syria over their abusive tactics against the government of President Bashar al-Assad and its supporters.
She denounced the armed gangs' abuses as "unjustifiable" stressing that the "opposition leaders should make it clear to their followers that they must not torture, kidnap or execute under any circumstances."
The report cited witnesses who told "HRW" that "armed groups identifying themselves with the opposition are kidnapping both civilians and members of the security forces."
An activist identified as Mazen said he learned that "three people who worked with the government had been tortured to death in Idlib in northern Syria, an opposition stronghold."
Mazen also said he spoke to a member of the Syrian security forces who was kidnapped and detained by opposition fighters in Saraqeb:
"The detainee told me he was a first assistant in the National Hospital in Aleppo … I asked the revolutionaries to bring him to me so I could speak to him. He said that opposition fighters had beaten him with electrical cables on the head … and he was blindfolded. He said they let him speak to his parents … and that they asked them for money to release him."
Another Syrian activist identified as Samih told the organization that "members of the U.S, West-backed and financed Free Syrian Army were kidnapping soldiers."
"They would kidnap them and ask their parents to pay a ransom to let them go," Samih said.
Human Rights Watch also expressed concern about armed groups' kidnappings of Iranian nationals, some of whom the group has confirmed are civilians.