Europe
Human Rights
North America
'I just saw a human being not his color': BLM activist who rescued far-right demonstrator
A Black Lives Matter supporter who took an alleged far-right demonstrator to safety amid violence in London has said he "didn't even think twice about doing it".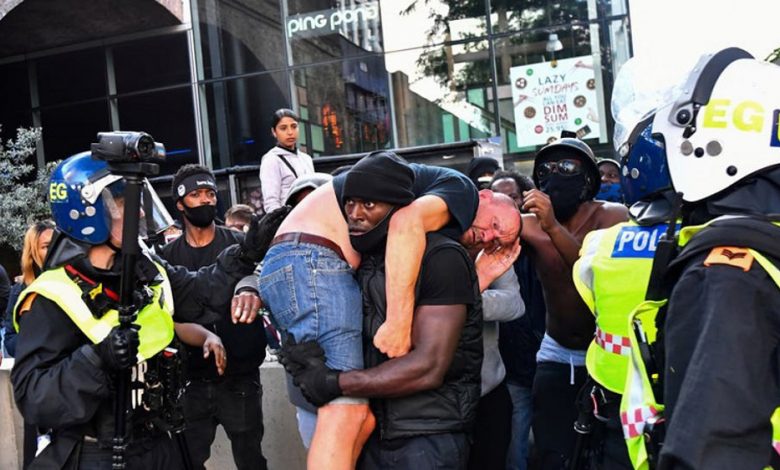 A photograph showing Patrick Hutchinson lifting the injured white man away from a melee on Saturday, which is trending on social media, was taken as hundreds of demonstrators, some of whom belong to far-right groups and organizations, clashed with police in central London's Parliament Square.
These events unfolded as groups of football hooligans and far-right supporters took to the streets in response to recent Black Lives Matter protests in the wake of the police killing of George Floyd in Minneapolis.
The photo has been held up by Labour MP Florence Eshalomi as a "powerful symbol" amid a weekend of division and confrontation between right-wing protesters and anti-racism activists in the capital.
Hutchinson told ITV News: "I didn't even think twice about doing it, it was just an instinct. I didn't see color I just saw a human being on the floor possibly coming to his end."
Hutchinson, who is a personal trainer and a grandfather, said he gone to the event with his friends, a group of security and martial arts experts, in a bid to protect anti-racist activists on a protest march through London.
 In a separate interview with Channel 4 News, Mr Hutchinson said: "If the other three police officers who were standing around when George Floyd was murdered had thought about intervening like what we did, George Floyd would be alive today."
He added: "I just want equality – equality for all of us. At the moment the scales are unfairly balanced and i just want things to be fair – for my children and my grandchildren."
Hutchinson's was on the way home following the protest, when he came across far-right protesters clashing with a group of young black men. As Mr Hutchinson carried the injured man away, his friends worked to hold back the crowd.
His friend Jamaine Facey, a personal trainer who was among the group, said: "For me I wasn't protecting him – I was protecting our kids. I was protecting their future because I knew the judge would not have seen what happened before. I was saving our kids future".
Police made more than 100 arrests through the day, while 27 people including six officers were injured during clashes.
In a post on Twitter, UK Prime Minister Boris Johnson condemned the violence used by the protesters as "racist thuggery."
"Anyone attacking the police will be met with full force of law. These marches & protests have been subverted by violence and breach current guidelines. Racism has no part in the UK and we must work together to make that a reality" he wrote.