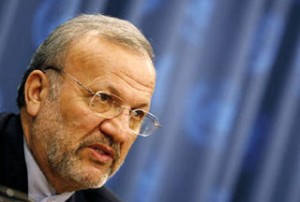 Iran's Foreign Minister says "the sketchy report "issued by UN nuclear chief Yukio Amano shows he is not experienced enough to pass judgment on Tehran's enrichment program.
"Mr. Amano is new to the job and clearly has a long way to go before he can reach the experience held by [former head of the International Atomic Energy Agency] Mohammad ElBaradei," Manouchehr Mottaki said in a Sunday interview with Al-Alam.
"The report was Amano's first and, like many other first reports, it was seriously flawed," he noted, explaining that the assessment had only repeated previous allegations with a harsher tone.
On Thursday, Amano released a two-sided report on Tehran's enrichment program, criticizing Iran for a range of issues, but verifying the non-diversion of declared nuclear material in the country at the same time.
In response to this, Mottaki said Iran has already addressed all outstanding questions posed by the UN nuclear watchdog regarding the aim and purpose of the country's nuclear program.
"If Mr. Amano takes another look at our case, he will see that the agency had no other questions regarding Iran's enrichment activities because we had answered them all. [Our intentions] were verified by UN nuclear inspectors, "he continued.
The Iranian foreign minister said certain parts of the report, which were obviously dictated by someone other than Amano himself, had referred to issues that do not concern the IAEA in the least.
"Iran's defense doctrine does not fall in the category of issues that can be discussed and dealt with by the agency. Mr. Amano should bear that in mind [in his next report]," said Mottaki.
"Despite this all, we wish Mr. Amano the best of luck and are still determined to continue cooperation with the IAEA within a legal framework," he noted.