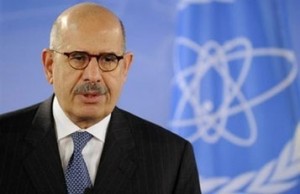 While nuclear negotiations between Iran and the West have yet to yield a final result, the International Atomic Energy Agency (IAEA) chief warns against imposing fresh sanctions on the country.
Speaking on Friday in Berlin, IAEA Director-General Mohamed ElBaradei expressed hope that Iran would agree to an international nuclear fuel proposal, which is said to be aimed at resolving a long-standing dispute over the country's nuclear program.
"We have not received any written response from Iran. What I got of course is an oral response, which basically said 'we need to keep all the material in Iran until we get the fuel,'" ElBaradei said.
"I hope to get an answer soon, within the next week or so," he added.
The IAEA chief was referring to a proposal put forward to the Tehran government by major powers in Geneva on October 19, suggesting that Iran sends the bulk of its low-enriched uranium (LEU) stockpile out of the country in exchange for metal fuel rods for its Tehran medical research reactor.
While Iran said that it would accept the essential elements of the UN offer, it sought modifications to the formula.
Arguing that a guarantee for the fuel supply is the core concern for Iran, nuclear officials in the Islamic Republic say Tehran wants its enriched uranium stockpile kept in a room inside the country sealed by the UN nuclear watchdog.
Iranian officials say that once the nuclear fuel is supplied to Iran, the agreed amount of LEU can be taken out of the country as part of the deal.
ElBaradei went on to warn the West against imposing new sanctions on the Islamic Republic, saying the move would prompt the Tehran government to further toughen its stance on its nuclear program.
"We got a positive response from the Russians and the Americans and the French who also said that they are ready to help and that, I thought, is a unique opportunity to move from sanctions and confrontation to the process of building confidence and trust," the outgoing head of the UN nuclear watchdog said.