Syria
In-depth look into upcoming southern Syria offensive (map)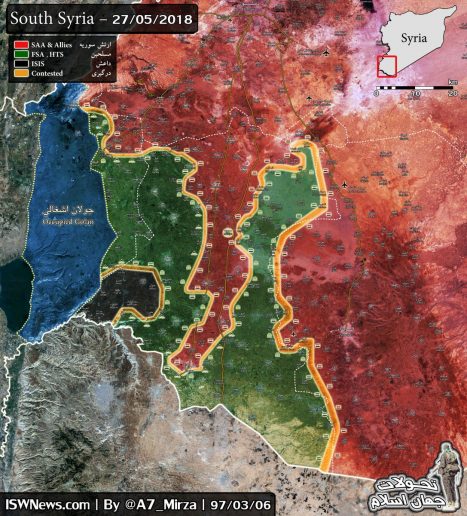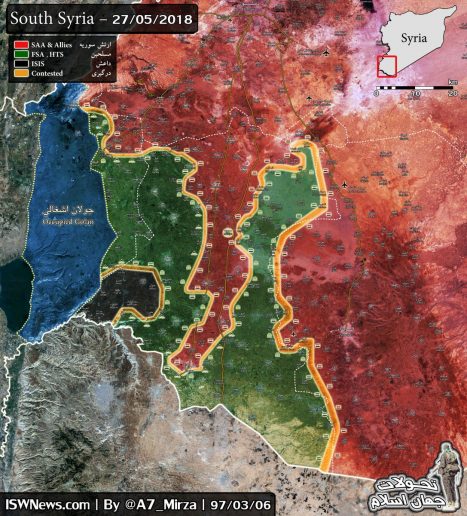 The Syrian Arab Army (SAA) and their allies are preparing to launch their biggest offensive of the year, with the primary focus being the southern provinces of Dara'a and Al-Quneitra.
Units Involved:
Syrian Army

4th Division

39th Brigade
40th Brigade
42nd Brigade (Ghiath Forces)

5th Armored Division
9th Storming Brigade
15th Special Forces Division
Tiger Forces
Republican Guard

105th Brigade
106th Brigade

Paramilitaries

Liwaa Al-Quds (Palestinian group based in Aleppo)
Palestine Liberation Army (PLA)
National Defense Forces (NDF)
Arab Nationalist Guard (paramilitary unit comprised of Arabs from all over the Middle East)
Syrian Social Nationalist Party (SSNP)
Al-Ba'ath Battalions
The first phase of the offensive will consist of two separate, but equally important battles inside the Dara'a Governorate.
According to a military source in Damascus, the Syrian Army's 4th Division is slated to lead the charge from the government stronghold of Izra'a in order to retake the Nassib Crossing.
Meanwhile, inside the provincial capital, the Tiger Forces will attempt to retake the southern half of Dara'a City, which is primarily controlled by the Free Syrian Army's Southern Front Brigades.
Phase 2: 
If Phase 1 is successful, the second phase will consist of retaking the strategic town of Tal Al-Harrah, along with the Dara'a Triangle (e.g. Kafr Shams) and the entire Al-Quneitra Governorate.
This attack on the southern part of Al-Quneitra will be led by the 9th Storming Division and Liwaa Al-Quds.
In addition to this assault, the Syrian Army's forces inside Dara'a City will attempt to join up with the 4th Division by pushing east along the Jordanian border, while the latter also secures the Houran Plain and Al-Lijat region.
ALSO READ
Breaking: ISIS claims attack on Syrian troops near Iraqi border, denies US involvement
The goal of phase 2 will be to eliminate the rebels' eastern pocket and isolate them in the southwestern corner of Syria.
Final Phase:
The final phase will consist of a number of attacks to pressure the rebel forces to surrender their positions in exchange for transportation to northern Syria.
Similar to their southern Damascus offensive, the Syrian Army will likely use the Islamic State's pocket in southwestern Dara'a to force a deal from the rebels, which will give them access to this area.
The ultimate goal will be to eliminate the Islamic State pocket and retake the entire Jordanian and occupied Golan Heights border.