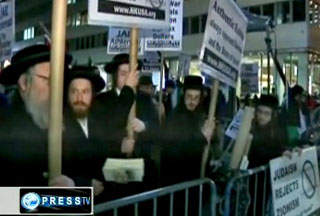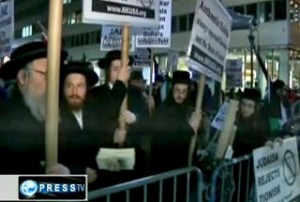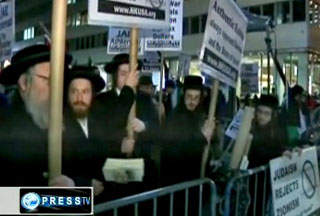 Hundreds of demonstrators have held an anti-Israeli rally outside a fundraiser for the Israeli military in New York.
Earlier a Jerusalem Post article had reported that the Friends of the IDF would host a USD 1,000-a-plate dinner at the Waldorf Astoria Hotel, to raise funds for the Israeli military.
Organized by a broad coalition of about 25 groups, including American Jews for a Just Peace, the demonstration took place in New York on Tuesday, with protestors defending the Palestinian cause by chanting "Long live Palestine, long live the Intifada. Palestine will never die."
We have come here "to protect the Jews from our mortal enemies, when the mortal enemy is this entity of Zionism which is the ideology behind the [creation of] Israel," one demonstrator told Press TV, adding that by "exacerbating anti-Semitism" Israel has exposed "a rift between the Jews and the Muslims."
The fundraiser was attended by several Israeli military officials, including Chief of Staff General Gabi Ashkenazi, who arrived in Washington on Monday for talks on Iran.
Ashkenazi has met with US military officials at the Pentagon, and he's also due to meet with Republican Senator John McCain.