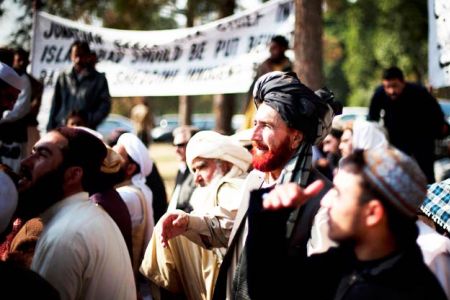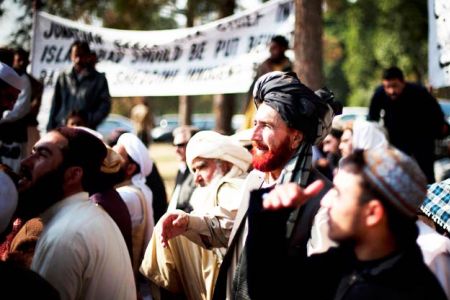 Swarms of tribesmen from North Waziristan have staged a protest in the capital Islamabad to vent their anger against unauthorized US drone attacks in Pakistan's tribal areas.
With civilian casualties on the rise as the result of non-UN-sanctioned US drone attacks, dozens of protesters from tribal areas in North Waziristan traveled to Islamabad on Friday, chanting anti-American slogans and complaining about having to live in constant fear of being the next target of the drone attacks, a Press TV correspondent reported on Saturday.
The villagers were simmering with resentment over the escalation of unauthorized US drone strikes that have killed 2,000 people in northwest Pakistan since 2004.
More than 700 of those casualties, mostly civilians, have been killed in US drone attacks since 2009.
A $500 million lawsuit against CIA director Leon Panetta, US Defense Secretary Robert Gates and the CIA station chief in Islamabad, which began with just one claimant last month in the Pakistani courts, has now drawn scores of claimants and is expected to attract still more people, who have lost their loved ones during the aerial strikes.
"Muslim blood has become a business," said a protester named Samiullah, a 21-year-old from a village near Mir Ali in North Waziristan.
The latest eruption of outrage comes as the United Nations has stressed that the US-operated drone strikes in Pakistan pose a growing challenge to the international rule of law.
The daily attacks, initially ordered under former US President George W. Bush, have seen a dramatic increase during President Barack Obama's presidency.
Washington claims that the airstrikes target militants. However, according to statistics, over 1,100 people have lost their lives in more than 130 drone strikes in Pakistan since August 2008.
Earlier on Friday, Peshawar-based US Consul General Elizabeth Rood reportedly left Pakistan after receiving death threats from pro-Taliban militants amid the public outcry over the surge in US-operated drone attacks in tribal areas.