India
Asia-Pacific
India's Nagaland state rocked by protests after civilian killings dubbed as 'genocide'
Situation continues to be tense in northeast India's Nagaland state after security forces "mistakenly" killed 14 civilians on Saturday, sparking violent protests and a shutdown.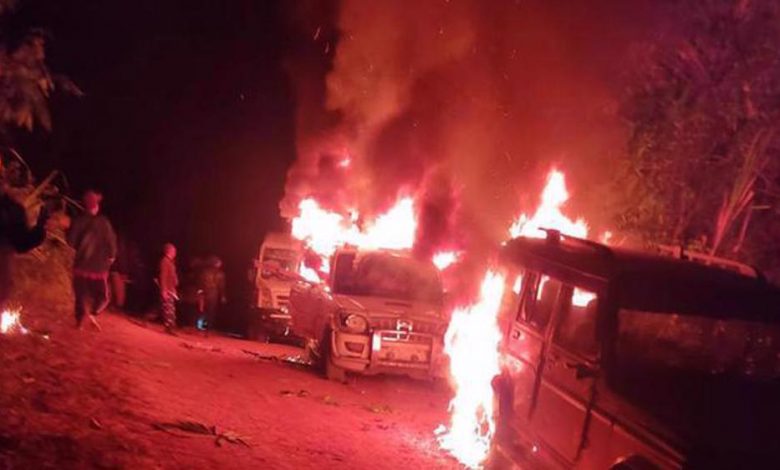 Angry protesters rallied towards an Indian army camp in Mon district on Sunday, throwing stones and setting fire to areas around the camp, resulting in the death of an army man, reports said.
"There is a mob outside which is pelting stones," a security official was quoted as saying from the camp, which was surrounded by a large number of protesters.
At least six people were killed on Saturday after security forces fired at a truck carrying coal-mine workers, mistaking them for "militants". Seven more civilians were killed in ensuing clashes between local residents and security forces later on Saturday evening.
The killings, described by local authorities as a "botched-up" operation, has drawn widespread outrage in Nagaland, a violence-marred region that has witnessed decades of armed rebellion against the Indian rule.
In recent years, the armed groups in the state have been engaged in peace negotiations with the Indian government, which may be affected by the latest incident.
"The people are very angry," Honang Konyak, vice president of the Konyak Union, the apex body of the Konyak tribe that dominates Mon district located on the Indo-Myanmar border, was quoted as saying.
"The security forces, who were supposed to be guardians, have killed innocents," he said.
To contain protests, authorities have clamped prohibitory orders in Mon town and banned mobile internet and SMS services in the entire district citing "apprehension of grave law and order problems".
Attending the funeral of slain men, Nagaland chief minister Neiphiu Rio demanded the removal of Armed Forces (Special Powers) Act or AFSPA, a controversial law that grants the military wide powers of arrest, the right to shoot to kill, and to occupy or destroy property in "disturbed areas".
The call for the repeal of AFSPA is growing louder, with many politicians and activists joining the chorus.
I have said it before and I will say it again #RepealAfspa . This law has no role in modern society and the people of the region cannot suffer like this— Pradyot_Tripura (@PradyotManikya) December 6, 2021
Nagaland killings are 'genocide'
Bharatiya Janata Party's (BJP) Nagaland State President Temjen Imma Along has termed Saturday's killings as "genocide", saying he was deeply anguished and heartbroken by the incident.
"There can never be any justification for such kind of massacre targeting innocent civilians. The innocent victims were laborers returning from a hard day's work and were not armed with any firearms whatsoever," he said in a statement.
"It is, therefore, tantamount to war crimes during peace time and amounts to summary execution as well as genocide," Along added.
Congress, the main opposition party in India, attacked the BJP-led government over the killing of civilians, with party vice president Rahul Gandhi saying the government must give a "real reply" as to what is the home ministry doing when "neither civilians nor security personnel are safe in our own land".
Tragic news from #Nagaland is highly distressing.

Repeated incidents of violence in North East is a clear indication of Modi govt's failure to maintain law & order & protect national security.

PM & HM- why is Govt unable to ensure safety of our civilians & security personnel? pic.twitter.com/cxwWSlT1PN— Congress (@INCIndia) 
The Trinamool Congress, which rules in nearby West Bengal state, also slammed the BJP-ruled central government over the incident in party mouthpiece Jago Bangla.
"Not just in Nagaland, central forces like the Border Security Force (BSF) have killed two innocent civilians in Bengal in the last two months. Then they were termed Bangladeshis. The BJP-run central government has been repeatedly using this tactic to suppress such killings shamelessly. A force that cannot distinguish between terrorists and innocent civilians must be trained properly instead of sending them at the border. They can only be sent on the 'war front'," the editorial in Jago Bangla read on Monday.
The issue was raised in the Indian parliament on Monday. Leader of Opposition and Congress MP Mallikarjun Kharge said the matter is "very serious and horrendous".
"We demand a statement by the Minister of Home Affairs on it in the House today only. It is a serious matter, I request you to direct the minister to make a statement," Kharge said.
Indian Home Minister Amit Shah is expected to brief the parliament on the incident on Monday.
Observers believe attempts to end the insurgency through harsh military attacks in India were doomed to fail, saying the real solution is better governance and development of the region.
Meanwhile, a special investigations team comprising of five police officials has been formed to investigate the case within one month.