Europe
Iran
Middle East
Informed Source: Iran to Continue Modification of N. Deal Undertakings after Weak Vienna Results
"The results of the joint JCPOA (Joint Comprehensive Plan of Action) meeting held recently in Vienna were far from Iran's righteous demands based on the nuclear deal and failed to meet our demands," the source told the Persian-language Khorassan newspaper.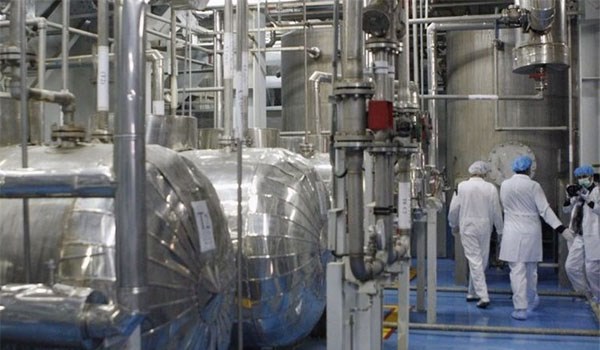 "The Islamic Republic of Iran will firmly continue its move to decrease the nuclear deal undertakings and to this end will soon take the first step and pass the ceiling of 300kg of enriched uranium," he added.
Meantime, the source underlined Iran's preparedness to review its modifications that are happening on the basis of the paragraphs 26 and 36 of the nuclear deal once Europe materializes Iran's demands in the banking and oil sectors.
The remaining signatories to the nuclear agreement met in Vienna on Friday at a JCPOA Joint Commission meeting in a last-ditch effort to save the nuclear agreement.
Under the 2015 nuclear deal, Iran was committed to export its stockpiles of low enriched uranium exceeding 300 kilograms and heavy water exceeding 130 tons in order to stay within limits agreed to under the JCPOA.
However, almost a year after President Donald Trump abandoned the JCPOA, the US sanctioned Iran's low enriched uranium and heavy water exports.
Iran responded shortly after by suspending its commitments to agreed heavy water and enriched uranium limits, urging remaining signatories to take practical steps to protect the deal, including Iran's right to export the nuclear-related material.
After the Friday's JCPOA joint commission meeting, Iranian Deputy Foreign Minister Abbas Araqchi described the event as "a step forward" but explained that the progress was still not "meeting Iran's expectations".
He said that the Europeans had confirmed that the planned INSTEX trade mechanism is now "operational" and that first transactions are already processed, but added that it was still insufficient because European countries were not buying Iranian oil.