North America
Others
World News
Inhuman zionist Trump denies white extremism is rising threat despite New Zealand terror attacks
US President Donald Trump says he doesn't view white extremism as a rising threat around the world, despite the killing of 49 people at two New Zealand mosques by a white nationalist, attacks that many blamed on the demonization of Muslims by the Trump administration.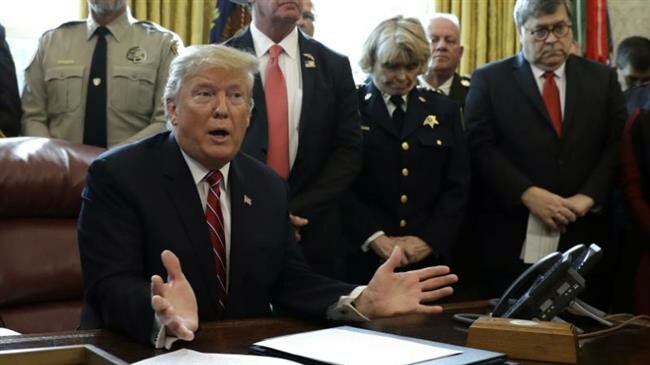 Trump made the comments on Friday at the White House after he was asked by a reporter if he thought white nationalism is a growing global threat.
Trump spoke to reporters shortly after issuing the first veto of his presidency, which preserved his declaration of an emergency over the threat to American safety from immigrants from Central America.
"I don't really. I think it's a small group of people that have very, very serious problems," Trump said. "I guess if you look at what happened in New Zealand perhaps that's a case, I don't know enough about it yet."
At least one gunman killed 49 people and wounded more than 20 during Friday prayers in New Zealand's worst ever mass shooting.
The Australian gunman, identified as Brenton Tarrant, broadcast live footage on Facebook of the attack on one mosque in the city of Christchurch, mirroring the carnage played out in video games, after publishing a "manifesto" in which he denounced immigrants, calling them "invaders."
Tarrant's manifesto posted online praised Trump as "a symbol of renewed white identity and common purpose".
Muslim and civil rights activists have long accused Trump of promoting intolerance with his rhetoric and policies. Trump called for a "total and complete shutdown" of Muslims entering the US during his election campaign.
Experts say the US president's immigration policies have emboldened far-right groups and white supremacist ideology in the West.
Political and Islamic leaders around the world have expressed disgust at the New Zealand massacre.
Iranian Foreign Minister Mohammad Javad Zarif called for an emergency meeting of the Organization of Islamic Cooperation (OIC) to discuss the terrorist attack in New Zealand.
"Western hypocrisy of defending demonization of Muslims as 'freedom of expression' MUST end," Zarif said on Twitter. He posted a picture of Trump saying "I think Islam hates us," during the 2016 US election campaign.
Turkish Foreign Minister Mevlut Cavusoglu said the attack was a result of Muslims being demonized. "Not only the perpetrators, but also politicians & media that fuel the already escalated Islamophobia and hate in the West are equally responsible for this heinous attack," he tweeted.
Trump has "normalized" Islamophobia
Nihad Awad, the executive director of the Council on American-Islamic Relations (CAIR), a Muslim-American civil rights group, said Trump has "normalized" Islamophobia.
"In many white supremacists' attacks on the American-Muslim community, the attackers cite Trump and cite his policies," Awad said at a news conference on Friday in Washington.
"I don't think anyone of us should be surprised that what he says and what he does impacts the attitudes and actions of people, not only at home, but now abroad."